ADVERTISEMENT
ADVERTISEMENT

CHANDIGARH

LUDHIANA

JALANDHAR
New

DELHI

HIMACHAL PLUS
New

AMRITSAR PLUS

LIFESTYLE
New

BRIDES WANTED

GROOMS WANTED

OTHERS

HOW TO PLACE ADVTS

E - Revolution 2005:
A Two-day IT conclave

Assembly Elections - 2005

Turbans

Chandigarh is 50

EARLIER FEATURES
Quote
We are of the opinion that a case of this nature, in which the crime is committed with a premeditated approach and in a grotesque manner, the convict deserves nothing other than death penalty.
Delhi High Court Bench


MSP for wheat raised to Rs 750
New Delhi, October 30
Forced to import wheat to fill the shortfall in the buffer stock, the UPA government today increased the rabi crop minimum support price it would pay to farmers for wheat to Rs 750 per quintal and Rs 1715 for mustard.

Punjab page: Centre criticised for low MSP to farmers


BKU welcomes hike in MSP


Haryana page: Decision on MSP a joke, says Sampat


Dy CM hails MSP hike

Farmers' issues to get top priority: PM
Amarinder meets Manmohan
New Delhi, October 30
Prime Minister Manmohan Singh today assured Punjab Chief Minister Amarinder Singh that the plight of farmers would receive top priority from the Centre and asked the state government to submit its proposals at the earliest.
Agitating farmers lathicharged
Sriganganagar, October 30
Around 30 persons were injured, five of them seriously, when the police resorted to a lathicharge to quell agitating farmers in Rawatsar in Hanumangarh district of Rajasthan today.
72-hour trade bandh in Delhi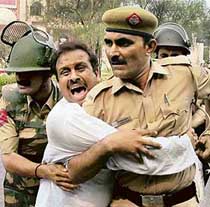 New Delhi, October 30
Shops in all major markets here remained closed today as traders put up the shutters to protest against the resumption of the sealing drive here on Supreme Court orders.



In video (56k)

Policemen arrest a trader protesting against the MCD sealing drive, in New Delhi on Monday. — PTI photo


India: The Tasks Ahead

SPECIAL SUPPLEMENT

125TH ANNIVERSARY CELEBRATIONS,
INAUGURAL SESSION

HOROSCOPE
In Education Tribune today

Delhi page: Many markets stay closed on day one


CLP declares support for traders' agitation
20-point programme relevant, says Sonia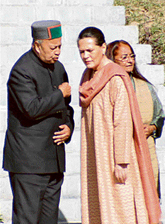 Dharamsala, October 30
Congress president Sonia Gandhi here today stressed the need for revival of the 20-point programme launched by former Prime Minister Indira Gandhi as it was aimed at bettering the lot of the underprivileged and deprived sections of society.

UPA chairperson Sonia Gandhi listens to Chief Minister Virbhadra Singh during the unveiling of the statute of late Rajeev Gandhi Memorial Ayurvedic College at Paprola, 50 km from Dharamsala.



In video (56k)

Himachal page:


Kangra not discriminated against: Sonia


Sonia disappointed people, says Dhumal


Sonia's rally at Shahpur sets HP poll tone

Kumble, Zaheer back in one-day squad
R. P. Singh, Romesh Powar shown the door
Chandigarh, October 30
Reposing their faith in pacer Zaheer Khan and veteran spinner Anil Kumble, the BCCI Selection Committee recalled them in a 16-man Indian squad for the forthcoming five-match one-day series against South Africa. (Details on Sports page)


Sensex crosses 13k milestone
Mumbai, October 30
Sensex today ended at an all-time high with the benchmark Bombay Stock Exchange index closing at 13,024. In the broader markets, Nifty was up 0.8 per cent or 30 points to close at 3,769.

Talks on to defuse Bangladesh political crisis
October 30, 2006

First arrest under new law
October 29, 2006

Centre defers decision on wheat MSP
October 28, 2006

Terrorism most dangerous threat, says Manmohan
October 27, 2006


Indo-Pak back channel parleys gather steam
October 26, 2006


Antony gets Defence
October 25, 2006


ISI trying to subvert forces, says Pranab
October 24, 2006

Bill on judges' accountability in Parliament soon
October 23, 2006

Government consults CMs on OBC reservation
October 21, 2006

SC upholds quota in promotions
October 20, 2006