CHANDIGARH

LUDHIANA

JALANDHAR
New

DELHI

HIMACHAL PLUS
New

AMRITSAR PLUS

LIFESTYLE
New

BRIDES WANTED

GROOMS WANTED

OTHERS

HOW TO PLACE ADVTS
Further steyn on blue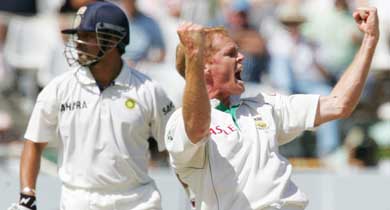 South Africa's Shaun Pollock celebrates after dismissing Sachin Tendulkar on the fourth day of the third Test in Cape Town on Friday. Fellow pacer Dale Steyn was the wrecker-in-chief for the Proteas, bagging four wickets for 30 runs as India were bundled out for 169. — AFP photo (Details on Sports page)



Australia's retiring Big Three Justlin Langer, Glenn McGrath and Shane Warne happy together after Australia defeated England to regain the Ashes on Friday. — AFP
Down Under — Whitewash
Australia completed the most crushing Ashes series victory in 86 years today, sending bowling greats Shane Warne and Glenn McGrath into Test retirement with a 5-0 sweep of England.
(Details on Sports page)


India: The Tasks Ahead
SPECIAL SUPPLEMENT
125TH ANNIVERSARY CELEBRATIONS,
INAUGURAL SESSION



In Sports Tribune today
FORUM
Forum provides our readers with an opportunity to express their views on some of the vital issues facing the country. The new question being posed is:
How can Indian hockey be saved?
The answers can be
e-mailed to:
forum@tribunemail.com
H.K. Dua
Editor-in-Chief

Attack on Infosys foiled: Police
Bangalore, January 5
The Bangalore police today claimed to have arrested a Pak-trained militant who had been planning to strike at Infosys and the International Airport.



Suspected Lashkar militant Bilal in police custody in Bangalore. — PTI photo
17 killed as ULFA steps up violence
Dibrugarh (Assam), January 5
A survey conducted by kin of ULFA members showed 95 per cent of people in nine districts of Assam had rejected the demand for sovereignty for the state, but the banned group dismissed the finding even as its cadres gunned down 17 persons in stepped up violence today.
SC: Can a judge hear 300 cases a day?
New Delhi, January 5
"Can a judge hear 300 cases listed before him every day?" was the poser of the Supreme Court to the Centre and state governments today while asking them why there was delay in putting in place the alternate dispute redressal mechanism as suggested by it in a judgement earlier.
Sidhu moves SC for stay on conviction
New Delhi, January 5
Former cricket player and BJP MP Navjot Singh Sidhu today moved an appeal in the Supreme Court, challenging his conviction and three years' imprisonment in a road rage death case and pleaded for stay on his conviction till final decision on the appeal, to enable him to contest parliamentary byelection from Amritsar.
BJP MP dead
New Delhi, January 5
Uttarakhand BJP leader Manabendra Shah, 85, died of kidney failure at a private hospital here today. Shah, who is a Lok Sabha MP from Tehri-Garhwal, passed away here this evening . — PTI


Army feat: Tank driven to 17,000 feet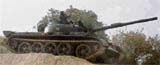 Chandigarh, January 5
Somewhere in the snow-covered Himalayas during the bleak winters last year, the Army drove a T-55 tank up to the dizzying height of over 17,000 feet, setting a record of sorts. Never in the history of armoured warfare has a tank been taken up to this altitude before.
HOROSCOPE

E - Revolution 2005:
A Two-day IT conclave

Assembly Elections - 2005

Turbans

Chandigarh is 50

EARLIER FEATURES
Noida killings: UP forms SIT
January 5, 2006

Noida killings: 2 SPs suspended, 6 cops fired
January 4, 2006

15 skeletons identified
January 3, 2006

Pitched battles in Nithari
January 2, 2006
Nithari on boil amid revenge cries
January 1, 2006
Saddam hanged
December 31, 2006
Saddam may hang any time
December 30, 2006
Buddha bends on Singur
December 29, 2006
NDA backs Mamata, seeks help of President
December 28, 2006
Saddam loses appeal
December 27, 2006
Lalu for Rahul; Nitish backs Atal
December 26, 2006