ART & LITERATURE

'ART & SOUL
ENTERTAINMENT

TELEVISION

GARDEN LIFE

NATURE

FOOD TALK

CONSUMER RIGHTS

HOLLYWOOD HUES

BRIDGE

ULTA-PULTA
EARLIER FEATURE

TRAVEL

RELATIONSHIPS

DREAM THEME

TIME OFF

Whose land is it anyway
The circus of protest was limited to Singur—at best to West Bengal—while the problem affects millions across the country. The only outcome was to draw the attention of those who could look beyond Mamata's saline drip to the larger problem of land alienation, writes Pratik Kanjilal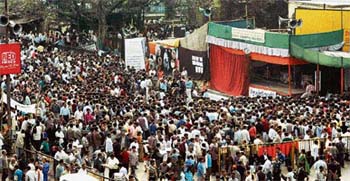 Now that the dust has settled after almost a month of turmoil over Singur, there seems to be only one positive outcome of the whole affair— you, dear reader, are very unlikely to ask: "Singur? What's that?" Land alienation is already a noticeable problem in India and as the economy continues to boom, the proliferation of special economic zones (Sezs) and the plant and infrastructure associated with them will only make it worse.
Master of verse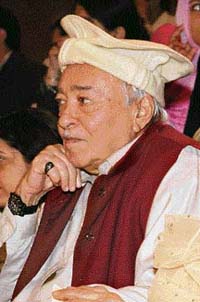 The passing away of poet Munir Niazi, composer of unforgettable Us Bewafa Ka Shehar Hai, left a vacuum in Urdu literature. Widely translated in European languages, his significant poetic voice can not be replaced.
Rhyme of the road
Driving down from Bombay to Goa is an enjoyable experience, observes Ervell E. Menezes as he relives one such journey
Sometimes one gets a feeling one was born on the road for there are few pleasures greater than being on the road, driving or being driven, that is. To see the silver strip of road stretching endlessly over hill and dale, rivers or lakes, villages or towns, is the very essence of life. What we see around us is life in its infinite variety.
Speaking out together
Augusto Boal, founder of Theatre of the Oppressed, is a legendary theatre director, writer and politician. In an interview with Sujoy Dhar during his recent visit to Kolkata, the 75-year-old Brazilian, speaks about his ideas
Inside the sprawling apartment of an old Kolkata mansion, a huge rag doll and some props scattered on one corner bear testimony to the presence of some theatre people around. After a few minutes' wait Augusto Boal emerges out of his room and walks with a limp.
A lovely mistake
Sumter's Swan Lake-Iris Garden in the US, which came about by sheer chance, is one of its kind, reports Peeyush Agnihotri after a visit
Sumter city, situated on the US state highway 378 in South Carolina and better known for Shaw Air Force base, also has a softer side to it. The city that lies barely 40 miles away from the state capital Columbia is as well a rare amalgamation of colourful petals and vibrant feathers.
Mumbai meri jaan
Traffic Signal is about streets of Mumbai where all kinds of people live, survive, jostle and yet retain their basic humanity, reports Shoma A. Chatterji
Madhur Bhandarkar draws attention everywhere, all the time. Chandni Bar shot him to fame. If his Page 3 bagged the top award at the National Film Awards a couple of years ago, the slickly produced Corporate was chosen to be the opening film at this year's IFFI at Goa.
Unforgettable Bimal Roy
For all his class, Bimalchandra Hemchandra Roy was a film-maker of the masses, writes M.L. Dhawan in a tribute to the maestro whose death anniversary falls tomorrow
Bimal Roy was hardly 20 years old when he migrated from East Bengal to Calcutta with his widowed mother, two brothers and a trusted companion—his camera. P.C. Barua, a noted film-maker, engaged him to do the publicity stills of his films. His expertise with camera paid off and he was elevated as a cinematographer.
'If I could redo anything in Sholay....'
Filmmaker Ramesh Sippy on the scene that haunts him in the film
There's this one scene that was supposed to be entirely positive but it had a negative effect. Amitabh died and Dharmendra discovers that the coin Amitabh used to flip had two heads and suddenly realises the implication of that.