PUNJAB

HARYANA

JAMMU & KASHMIR

HIMACHAL

REGIONAL BRIEFS

NATION

OPINIONS

MAILBAG

BUSINESS

SPORTS

WORLD
ADVERTISEMENT
ADVERTISEMENT
ADVERTISEMENT
Tuesday, February 6, 2007, Chandigarh, India
Updated at 3:00 am (IST)

Tribunal verdict on Cauvery
Karnataka cries foul; bandh called
Bangalore, February 5
Karnataka seems to be heading towards confrontation with the Centre, with the Kannada Rakshina Vedika today announcing that it would force the closure of all Central Government offices in the state tomorrow to protest against the "step-motherly" treatment meted out to the state by the Cauvery Water Disputes Tribunal.


Water share

Tamil Nadu
419 billion cubic ft
Karnataka
270 billion cubic ft
Will file review plea
Both sides got less than they had wanted
Kerala
30 TMC ft
Puducherry
7 TMC ft
Members of Kannada Rakshan Vedike shouts slogans near the Bangalore railway station on Monday against the verdict on the Cauvery water dispute. — PTI photo

Karunanidhi satisfied with Cauvery verdict


Nation page: Cauvery: TN gets lion's share


Editorial: Honour the award
CAST YOUR VOTE
Has Tata paid the right price for Corus?

ADVERTISEMENT


CHANDIGARH

LUDHIANA

JALANDHAR
New

DELHI

HIMACHAL PLUS
New

AMRITSAR PLUS

LIFESTYLE
New

BRIDES WANTED

GROOMS WANTED

OTHERS

HOW TO PLACE ADVTS
In Education Tribune today
Some light at end of the tunnel: Pervez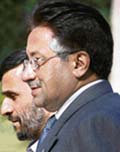 Islamabad, February 5
Pakistani President Pervez Musharraf expressed optimism on Monday about the decades-old dispute with India over the Kashmir region saying the two countries were focusing on reconciliation not confrontation.


With Iranian President Mahmoud Ahmedinejad on Monday.
Editorial: Terrorists' targets
China's space test unethical: ISRO chief
Bangalore, February 5
In the first reaction by the Indian Space Research Organisation (ISRO) to the missile "killing" of an ageing satellite by China, its Chief G. Madhavan Nair today termed the act as unethical and said no technological superiority could be said to have been achieved by the success of the experiment.


Editorial: Weapons in orbit


Dedicated defence satellite soon

Punjab Votes '07
Manmohan promises Green Revolution II
Amritsar, February 5
The Prime Minister, Dr Manmohan Singh, today urged the state to go the Congress way so that it could work in tandem with the UPA government at the Centre to accelerate its economic development and for regaining its number one position in the country.
Details on (Punjab) page

Rebel rattles Manpreet
HELP ME, MAN: Mr Surinder Singla, Congress candidate for the Amritsar Lok Sabha seat seeks the blessings of Prime Minister Manmohan Singh at an election rally in Amritsar on Monday. — Tribune photo by Rajiv Sharma




India: The Tasks Ahead
SPECIAL SUPPLEMENT
125TH ANNIVERSARY CELEBRATIONS,
INAUGURAL SESSION






E - Revolution 2005:
A Two-day IT conclave

Assembly Elections - 2005

Turbans

Chandigarh is 50

EARLIER FEATURES

MP rescues its Prince after 12 hours
Katni (MP), February 5
Almost 12 hours after falling into a 56-feet-deep borewell and getting lodged at a depth of 20 feet, a two-year-old boy was rescued unhurt at Goreshwar village near here today.
World tunes in to Chandigarh
Chandigarh, February 6
Chandigarh arrived on the global scene tonight. With the BBC World Service picking on this "systematic" city to start off its "India Rising" series, it was time for the young and the old to speak their minds out.

Big Bentley for B Junior
Mumbai, February 5
Abhishek Bachchan may have been greeted only with a bouquet by his fiancée Aishwarya Rai on his 31st birthday, but his father Amitabh Bachchan surprised him with a Rs 1.7-crore white Bentley car as a gift.

HOROSCOPE
Trouble again in Tataland
February 5, 2007

2 police officers arrested
February 4, 2007

Sena-BJP back, jolt for Cong
February 3, 2007

Ordinance route for live action
February 2, 2007

Chorus in Tataland
February 1, 2007

Dimpa led attack, Rajan fired AK-47: SAD
January 31, 2007
Akali, Congress workers clash
January 30, 2007
Fresh clashes in Singur
January 29, 2007
No pension funds for stocks, says EPF board
January 28, 2007
India, Russia for axis with China
January 26, 2007