PUNJAB

HARYANA

JAMMU & KASHMIR

HIMACHAL

REGIONAL BRIEFS

NATION

OPINIONS

MAILBAG

BUSINESS

SPORTS

WORLD

ADVERTISEMENT
ADVERTISEMENT
ADVERTISEMENT
Wednesday, February 14, 2007, Chandigarh, India
Updated at 3:00 am (IST)

Punjab Votes '07
72% outpour beats weather
Villagers lead from the front all over
Chandigarh, February 13
Defying inclement weather, including incessant rain and chilly winds, voters in Punjab sent out a strong message supporting democracy with a record and peaceful turnout for 115 Assembly and one Lok Sabha seats today.

BALLOT ON THEIR MIND: Women with children wait to cast their votes at Hussainpur Choula village in the Dakala Assembly segment. — Tribune photo by Manoj Mahajan


Hoarse Power: So, who will make it?
I will

Congress will be back in power. I am con-fident as people have endorsed our performance and good work. I am satisfied with the turnout and we hope to improve our tally of the last election.


— Amarinder Singh

I will

I am confident of forming the new government. I can gauge the pulse of voters and we are heading for a clear two-thirds majority. Regarding the exit poll, we expect more seats than projected.

— Parkash Singh Badal
CAST YOUR VOTE
Has Tata paid the right price for Corus?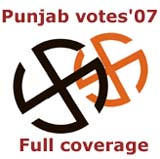 ADVERTISEMENT

CHANDIGARH

LUDHIANA

JALANDHAR
New

DELHI

HIMACHAL PLUS
New

AMRITSAR PLUS

LIFESTYLE
New

BRIDES WANTED

GROOMS WANTED

OTHERS

HOW TO PLACE ADVTS
In Health & Fitness today
In Jalandhar Plus today
Gill asks PM to help UK Indian docs
New Delhi, February 13
Congress Rajya Sabha MP from Punjab and former Chief Election Commissioner M S Gill has urged Prime Minister Manmohan Singh and Overseas Indian Affairs minister Vyalar Ravi to address the issue of a huge number of Indian doctors being pushed out of Britain following the new law enacted there last November.
China to support Indian bid for 2014 Asian Games
* To open Demchok route for Kailash Mansarovar
* Gives suo motu briefing on missile test
New Delhi, February 13
Two major decisions taken today will further improve Sino-Indian ties.



External Affairs Minister Pranab Mukherjee with the Foreign Minister of the People's Republic of China Li Zhaoxing prior to a meeting in New Delhi on Tuesday. — Tribune photo by Mukesh Aggarwal



India: The Tasks Ahead
SPECIAL SUPPLEMENT
125TH ANNIVERSARY CELEBRATIONS,
INAUGURAL SESSION





Jobs & Careers
In Himachal Plus today
In Amritsar Plus today
HOROSCOPE
N Korea to dismantle
N-plans in return for energy aid
Beijing, February 13
North Korea today agreed to dismantle its weapons-oriented nuclear programme in return for energy aid as envoys to the six-party talks clinched an elusive deal with a joint statement on the first step toward a nuclear-free Korean Peninsula.
MP Jindal bang on target
Guwahati: Congress MP and scion of the Rs 18,000 crore Jindal Group Naveen Jindal made history today by becoming the first Parliamentarian to win a medal in the National Games. (Details on Sports page)

His special Japanese Valentine
Dharamsala, February 13
Lovers all over the globe try to make Valentine's Day as unique and special as possible for their loved ones and make them feel treasured.

Shooting Up
Oh dear, after dal, it is vegetables
Chandigarh, February 13
If earlier it was scarcity which was worrying farmers, now it is plenty of rain which is giving them the jitters. The rain has also brought disturbing news for consumers.


E - Revolution 2005:
A Two-day IT conclave

Assembly Elections - 2005

Turbans

Chandigarh is 50

EARLIER FEATURES
Who will govern Punjab,
February 13, 2007

Fiercest poll battle ever
February 12, 2007

Kalam wants case review
February 11, 2007

J-K to probe rights violations
February 10, 2007

Beas poll put off to March 11
February 9, 2007

Economy set to grow at 9.2 pc
February 8, 2007

Terrorism may return: PM
February 7, 2007

Karnataka cries foul; bandh called
February 6, 2007

Trouble again in Tataland
February 5, 2007

2 police officers arrested
February 4, 2007