PUNJAB

HARYANA

JAMMU & KASHMIR

HIMACHAL

REGIONAL BRIEFS

NATION

OPINIONS

MAILBAG

BUSINESS

SPORTS

WORLD

ADVERTISEMENT
Sunday, February 25, 2007, Chandigarh, India
Updated at 3:00 am (IST)

CBI defends 'Q' announcement
Identity check led to delay
New Delhi, February 24
As the political heat began to build up again on the Bofors issue, the CBI today dismissed suggestions that there had been a delay in announcing the detention of Bofors-accused Ottavio Quattrocchi in Argentina and decided to send its team to pursue the Italian businessman's extradition to India. In video (56k)
CAST YOUR VOTE
Should President's rule be imposed in UP?


ADVERTISEMENT
ADVERTISEMENT
ADVERTISEMENT

CHANDIGARH

LUDHIANA

JALANDHAR
New

DELHI

HIMACHAL PLUS
New

AMRITSAR PLUS

LIFESTYLE
New

BRIDES WANTED

GROOMS WANTED

OTHERS

HOW TO PLACE ADVTS


63 BSP MLAs quit in UP
Lucknow, February 24
Taking considerable wind out of the Samajwadi party sails, BSP president Mayawati today announced the resignation of her 63 sitting MLAs along with 11 more defecting MLAs to protest the "delay in dismissing the unconstitutional Mulayam Singh Yadav government in Uttar Pradesh".

Governor refuses to accept resignations

In an apparent bid to avoid putting a seal on the ruling Samajwadi Party's interpretation that a Supreme Court judgement had only disqualified 13 MLAs, Uttar Pradesh Governor T V Rajeswar today refused to accept the resignations of seven ministers, official sources said.

Nation page: All options open in UP, says BJP
Cong may go the BSP way
Punjab Votes '07
Huge 81 per cent turnout in Valtoha
Valtoha, February 24
The border constituency of Valtoha today recorded an 81 per cent voter turnout, surpassing the state average of 76 per cent. District Election Officer Jaspal Singh issued notices to six MLAs and four candidates for violating directions of the Election Commission.


7 labourers die in Doraha house collapse
Doraha( Ludhiana), February 24
Seven labourers were crushed to death when the roof of the two-storeyed farmhouse where they were sleeping collapsed last midnight. Two more who were seriously injured were rescued this morning. The farmhouse being located outside Jaipura village, none heard any sound.
Mass burial
Panipat, February 24
Twentythree bodies of victims (19 of them unidentified) of the Samjhauta Express blasts were buried by the administration under the supervision of officials of the Haryana Wakf Board and local Muslim clergy at Mehrana village near here today.


India: The Tasks Ahead
SPECIAL SUPPLEMENT
125TH ANNIVERSARY CELEBRATIONS,
INAUGURAL SESSION





In Society today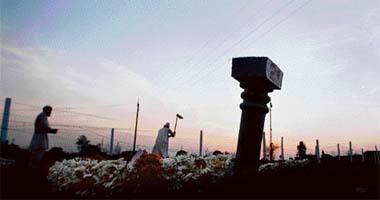 Graves of unidentified victims of the Samjhauta Express train blasts are silhouetted against the setting sun after a mass funeral ceremony at Mehrana village outside Panipat, on Saturday.
— AFP photo
Karnataka parties reject Cauvery verdict
Bangalore, February 24
An all-party meeting held here today passed a resolution rejecting the Cauvery Water Disputes Tribunal Award and decided to take legal remedies to secure "justice" for Karnataka.

Dolly gets Filmfare award for costumes

Chandigarh, February 24
It's a moment of triumph for Dolly Ahluwalia Tiwari, the Chandigarh-based costume designer who bagged her first Filmfare award for "Omkara" today. In the award ceremony held in Mumbai late tonight, Dolly was declared the best costume designer for Vishal Bhardwaj's "Omkara".


Dolly Ahluwalia Tiwari
HOROSCOPE

E - Revolution 2005:
A Two-day IT conclave

Assembly Elections - 2005

Turbans

Chandigarh is 50

EARLIER FEATURES
Quattrocchi held in Argentina
February 24, 2007
Special cell on inflation
February 23, 2007
UP poll in 7 phases
February 22, 2007
Sketches of suspects released
February 21, 2007
Samjhauta terror strike kills 67
February 20, 2007
Sonia calls CWC meeting today
February 19, 2007
Cong, Lalu want UP Govt sacked
February 18, 2007
Terrorists operating in big cities: Patil
February 17, 2007
Petrol, diesel cheaper
February 16, 2007
SC negates '03 BSP split in UP
February 15, 2007