PUNJAB

HARYANA

JAMMU & KASHMIR

HIMACHAL

REGIONAL BRIEFS

NATION

OPINIONS

MAILBAG

BUSINESS

SPORTS

WORLD

ADVERTISEMENT

Wednesday, May 2, 2007, Chandigarh, India
Updated at 3:00 am (IST)

Gujarat couple's killing
AP police did it: Govt
New Delhi, May 1
The fake encounter case has taken a new turn with the Gujarat government disclosing to the Supreme Court that armed men of anti-terrorist squad and Andhra Pradesh police were allegedly involved in the killings of Sohrabuddin Sheikh and his wife Kauser Bi.
US State Department Report
Jaish investing in real estate
New Delhi, May 1
A US State Department report today said that Pakistan's federally administered tribal areas "have become safe haven" for Al-Qaida terrorists and other extremist insurgents since the fall of the Taliban in December 2001.


India, US get down to 123 nitty-gritty
Negotiators from India and the USA today attempted to iron out critical differences over the civilian nuclear agreement amid concern that the much-hyped deal is in serious trouble. Foreign Secretary Shiv Shankar Menon met Under Secretary of State R. Nicholas Burns, the US point person on the deal, in Washington where administration officials were growing increasingly frustrated with Indian demands over nuclear cooperation.
CAST YOUR VOTE
Are universities of Punjab suffering from financial constraints?



India: The Tasks Ahead
SPECIAL SUPPLEMENT
125TH ANNIVERSARY CELEBRATIONS,
INAUGURAL SESSION

ADVERTISEMENT

CHANDIGARH

LUDHIANA

JALANDHAR
New

DELHI

HIMACHAL PLUS
New

AMRITSAR PLUS

LIFESTYLE
New

BRIDES WANTED

GROOMS WANTED

OTHERS

HOW TO PLACE ADVTS
In Jobs & Careers today


Will Badal go to US for medical check-up?
Chandigarh, May 1
It is now the turn of Punjab Chief Minister Parkash Singh Badal to go to the US for his routine biannual medical examination later this month. Though Badal himself is not very keen, it is his family which is evincing special interest in his keeping his appointment with the New York-based doctor.


Left favours Chatterjee as next President
New Delhi, May 1
Left parties today threw broad hints that they would prefer to have Lok Sabha Speaker Somnath Chatterjee as the next President to pre-empt the BJP from installing its own nominee in Rashtrapati Bhavan in July.


Somnath Chatterjee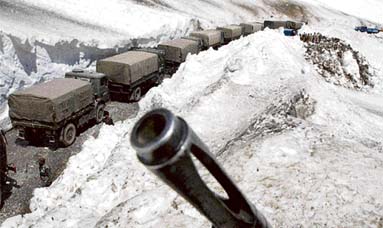 HIGHWAY REOPENS: An Army soldier's gun is partially visible on a ridge above a convoy carrying supplies for soldiers through the Zojila Pass, 108 km north Srinagar, on Tuesday. The Srinagar-Leh National Highway connecting Ladakh to the Kashmir Valley was reopened to traffic after remaining closed for six months. — AFP
In Himachal Plus today

In Jalandhar Plus today

In Amritsar Plus today

In Health & Fitness today


E - Revolution 2005:
A Two-day IT conclave

Assembly Elections - 2005

Turbans

Chandigarh is 50

EARLIER FEATURES
UP for grabs 2007
Faction fighting in saffron camp
Gorakhpur, May 1
The BJP top brass may have succeeded in persuading its rebellious MP from Gorakhpur, Yogi Adityanath, to return to the party fold but internal faction battles in the saffron camp continue to rage.



Political players set for the kill


Nation page: Naxal violence key factor in 6th phase

Banerjee panel
HC asks rly ministry to submit report
Ahmedabad, May 1
The Gujarat High Court today asked the railway ministry to submit the final report of the U.C. Banerjee Committee on the Sabarmati Express carnage at Godhra on June 21 to decide whether it can be tabled in Parliament or not.


Sam did not want Dhaka: Jacob
New Delhi, May 1
Gen Sam Manekshaw has been regarded as the hero of 1971 war against Pakistan that led to creation of Bangladesh earning him the rank of Field Marshal.

| | |
| --- | --- |
| Manekshaw | J.F.R. Jacob |
HOROSCOPE
Kausarbi was killed, body burnt
May 1, 2007

IOC facility hit in Tiger air raid
April 30, 2007
30 die in Pak blast; minister, son hurt
April 29, 2007
Democracy only antidote to Pak's Talibanisation, says Benazir
April 28, 2007
Members question judiciary for putting reservation on hold
April 27, 2007
IIMs may go ahead with admissions
April 26, 2007
PM dismisses Kasuri's claims
April 25, 2007
Quota stay to continue
April 24, 2007
Now, a transfer scam in Ludhiana
April 23, 2007
Woolmer suspect caught on camera
April 22, 2007