PUNJAB

HARYANA

JAMMU & KASHMIR

HIMACHAL

REGIONAL BRIEFS

NATION

OPINIONS

MAILBAG

BUSINESS

SPORTS

WORLD
ADVERTISEMENT
Wednesday, August 8, 2007, Chandigarh, India
Updated at 3:00 am (IST)

Left strikes down 123 agreement
Asks UPA govt not to proceed further


New Delhi, August 7
In a major blow to the Congress-led coalition, the Left parties today rejected the 123 agreement on the Indo-US nuclear cooperation and asked the Manmohan Singh government "not to proceed further in operationalising it".
Gurgaon, August 7
Seven Kanwarias were today run over by speeding vehicles in three mishaps, sparking protests by the Shiva devotees and locals, who burnt buses, blocked roads and clashed with the police, forcing it to open fire and use batons to quell the violence.

Buses of Haryana Roadways burnt by a mob at Manesar after seven Kanwarias were killed in road accidents. — A Tribune photograph
Haryana page: Arrangements made for kanwarias' safety

CAST YOUR VOTE
Is the government responsible for neglecting primary school education?



India: The Tasks Ahead
SPECIAL SUPPLEMENT
125TH ANNIVERSARY CELEBRATIONS,
INAUGURAL SESSION
ADVERTISEMENT


CHANDIGARH

LUDHIANA

JALANDHAR

DELHI

HIMACHAL PLUS

HARYANA PLUS
New

AMRITSAR PLUS

LIFESTYLE

BRIDES WANTED

GROOMS WANTED

OTHERS

HOW TO PLACE ADVTS
HOROSCOPE
In Health & Fitness today
It is me they are after: V-C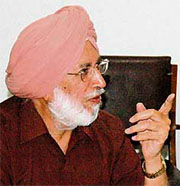 Patiala, August 7
"Their target is the V-C," said Swaran Singh Boparai, vice-chancellor of Punjabi University, Patiala, while reacting to the arrest of registrar B.S. Sandhu by the vigilance bureau last night.

Punjabi University V-C Swaran Singh Boparai: Sees the lobby of BEd colleges and politicians behind the arrest of registrar B.S. Sandhu



Punjab page: 2-day remand for Sandhu
OBC Quota
Formula sans 'creamy layer' comes under attack in SC
New Delhi, August 7
The formula devised by the Centre to implement 27 per cent OBC quota in education institutions today came under severe attack from a battery of lawyers representing anti-reservation students even as senior advocate K.K.Venugopal questioned the government stand that the principle of "creamy layer" will not apply to admissions.
Bachchan, Sarika bag best actor, actress awards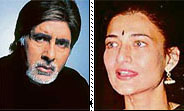 New Delhi, August 7
The much celebrated and versatile actor Amitabh Bachchan has been adjudged as the best actor of 2005 for his sterling performance in the Hindi film 'Black' while Sarika has been adjudged as the best actress for her much appreciated role in the English film 'Parzania'.
In Jobs & Careers today
In Amritsar Plus today
In Jalandhar Plus today


E - Revolution 2005:
A Two-day IT conclave

Assembly Elections - 2005

Turbans

Chandigarh is 50

EARLIER FEATURES

Punjab swamped by drug smugglers
Chandigarh, August 7
In two distinct trends that could spell trouble for Punjab, international watchdogs, including the UN, have warned that the state has become the biggest global gateway for drug trafficking while security agencies and the Punjab police have realised that almost all sections of society are involved in smuggling of drugs.
Old is New
Punjab's forest policy uncovered
Chandigarh, August 7
Years have come and gone, but the Punjab forest department's targeted increase in tree cover remains, curiously, unchanged. In its new forest policy, the department has conveniently repeated the tree growth target it had set itself 10 years ago.
CM's special secretary held in job scam
Solan, August 7
The state Anti-Corruption and Vigilance Bureau today arrested Dharamsala special secretary to the Chief Minister-cum-settlement officer S.C.Kalsotra and Purshottam Chowdhary, presently serving as executive officer of the Parwanoo Municipal Committee, in a case relating to irregularities in the recruitment of drivers, keymen and meter readers in the local municipal council in 1998. Details on Himachal page
Punjab takes on UP sugar lobby
Entry tax proposed
Chandigarh, August 7
With the objective of countering the Uttar Pradesh sugar lobby, which is virtually having a free run in Punjab, the state cooperation department has proposed the levy of 4 per cent entry tax on the sugar being dumped by various states, mostly by UP's sugar barons, in the state.
In Himachal Plus today
CBI arrests Malhotra
August 7, 2007

Bihar is hungry, desperate
August 6, 2007

Atta-dal scheme takes off — from back door
August 5, 2007

All quiet on N-testing
August 4, 2007

Troops at high altitudes to get more
August 3, 2007

'Concrete' evidence in rape and murder cases
August 2, 2007

Death for Hawara, Balwant Singh
August 1, 2007

Guv wants central rule
July 31, 2007

Haneef returns home to a hero's welcome
July 30, 2007
Haneef returns home today
July 29, 2007