PUNJAB

HARYANA

JAMMU & KASHMIR

HIMACHAL

REGIONAL BRIEFS

NATION

OPINIONS

MAILBAG

BUSINESS

SPORTS

WORLD
ADVERTISEMENT
Sunday, August 19, 2007, Chandigarh, India
Updated at 3:00 am (IST)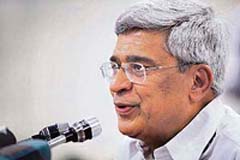 123 bytes
Karat: Pause or else...
New Delhi, August 18
In a war of nerves, the CPM today left the survival of the Manmohan Singh government in the hands of the Congress-led coalition by warning that operationalisation of the deal would have "serious consequences".



Cong goes into huddle


UPA meeting today


Bite, don't bark: BJP
Govt caught in frozen text turbulence
New Delhi, August 18
Immediately after Left leaders met Prime Minister Manmohan Singh and UPA chairperson Sonia Gandhi and showed their red card to the Indo-US nuclear deal in the present format, the government started examining options available.



Nation page: Uneasy calm: Who will blink first?


World page: N-test won't end deal: US
State funeral for 'mountain man'
Patna, August 18
Even though the mountain surrendered to the sheer grit and determination of the "mountain man", he failed to overpower cancer. Dashrath Majhi, popularly known as the "mountain man", finally lost his battle to cancer at the All-India Institute of Medical Sciences in Delhi yesterday.


Dashrath Majhi
CAST YOUR VOTE
Is the fall in Sensex a cause of concern?



India: The Tasks Ahead
SPECIAL SUPPLEMENT
125TH ANNIVERSARY CELEBRATIONS,
INAUGURAL SESSION
ADVERTISEMENT


CHANDIGARH

LUDHIANA

JALANDHAR

DELHI

HIMACHAL PLUS

HARYANA PLUS
New

AMRITSAR PLUS

LIFESTYLE

BRIDES WANTED

GROOMS WANTED

OTHERS

HOW TO PLACE ADVTS

No to Ambani's SEZ in Noida
Lucknow, August 18
In a setback to the Anil Ambani group, the Uttar Pradesh government today rejected its proposed special economic zone in Noida on the ground that it did not conform to Centre's guidelines. The decision was taken at a state cabinet meeting chaired by Chief Minister Mayawati, Shailesh Krishna, principal secretary to Mayawati, told reporters.
Taslima's visa extended for six months
New Delhi, August 18
The government has extended by another six months the visa of controversial Bangladeshi writer Taslima Nasreen, it was reliably learnt. Ms Nasreen — who was attacked by activists of the Majlis-e-Ittehabul Muslimeen (MIM) in Hyderabad earlier this month — had applied for a permanent resident permit — but the Indian Government preferred to extend her visa for six months from today till February 17 next year, said an official source here.
Recovery of Arms from MLA Quarters
Manipur CM to convene emergency meeting
Imphal, August 18
Manipur Chief Minister O. Ibobi Singh will convene an emergency Cabinet meeting to discuss the arrest of 12 insurgents and recovery of sophisticated arms from the official quarters of three Congress MLAs and a former MLA here. Official sources said there would be discussion on the steps to be initiated against the legislators at the meeting, which is to be held either today or tomorrow.

| | |
| --- | --- |
| | |
| | HARYANA: CBI serves notice on dera chief |
| | HIMACHAL: SFI retains hold over HPU; loses grip elsewhere |
| | |
| | CHANDIGARH: I stand by what I say: Khatta Singh |
| | |
| | |
| | OPINIONS: University autonomy |
In Spectrum today


E - Revolution 2005:
A Two-day IT conclave

Assembly Elections - 2005

Turbans

Chandigarh is 50

EARLIER FEATURES
Satyagraha against graft from today
New Delhi, August 18
Senior citizens, including freedom fighters, will launch a "satyagraha" here tomorrow against corruption in public life and to demand the passage of the Lok Pal Bill. Under the banner of Gandhian Satyagraha Brigade, they will begin their protest at Rajghat, the samadhi of Mahatma Gandhi.
Talks to free 19 hostages fail
Ghazni, August 18
Taliban militants today were deciding the fate of 19 South Korean hostages in Afghanistan, after the talks for their release failed, a spokesman for the militia said. "The negotiations have failed. The Taliban leading council is making its decision now on the fate of the hostages," said the spokesman, Yousuf Ahmadi. (Details on World page)


Headgear Issue
Ottawa apologises
Toronto, August 18
Authorities in Canada will issue an apology and travel documents to three Sikh children, whose passport applications were rejected because they were wearing religious headgear, an official said today. The passport office, Canada, will also offer remedial training to passport staff to ensure a similar incident doesn't happen in the future, spokesman Fabien Lengelle was quoted as saying.
HOROSCOPE
Support now only on merit, says Bardhan
August 18, 2007
India free to test, not bound by Hyde: Govt
August 17, 2007
Big I-Day deal for farmers
August 16, 2007
65 feared dead in HP cloudburst
August 15, 2007
India's interest unharmed: PM
August 14, 2007
N-deal: Left unmoved
August 13, 2007
We will sort it out: PM
August 12, 2007
N-deal: Left toughens stand, PM unmoved
August 11, 2007
After Rice call, Pak rebuttal
August 10, 2007
Pak plans to impose emergency?
August 9, 2007