PUNJAB

HARYANA

JAMMU & KASHMIR

HIMACHAL

REGIONAL BRIEFS

NATION

OPINIONS

MAILBAG

BUSINESS

SPORTS

WORLD

Saturday, September 15, 2007, Chandigarh, India
Updated at 3:00 am (IST)

Govt withdraws affidavits
New Delhi, September 14
Sensing the potential political fallout of the Ram Setu issue, the UPA government today virtually took a u-turn on the Sethusamudram project and withdrew from the Supreme Court its two affidavits, including the controversial one filed by the ASI claiming there was no historical or scientific evidence to establish the existence of Lord Ram and Ram Setu as a man-made bridge.

Ram Setu

Ready to re-examine project

Seeks three months' time from SC

Nation page: UPA's Ram goof-up upsets CPM

2 ASI officials suspended

Editorial: Facts and faiths
Haryana Edition Launched
Credibility keeps Tribune apart: Hooda
Karnal, September 14
The Haryana Chief Minister, Mr Bhupinder Singh Hooda, said here today that the refusal of The Tribune management to compromise the credibility of the paper was the quality that made it distinctive from its competitors.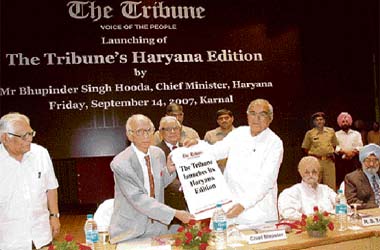 The Chief Minister of Haryana, Mr Bhupinder Singh Hooda, unrolls a scroll to formally launch the Haryana edition of The Tribune in Karnal on Friday. Others in the picture from left are Dr R.P. Bambah, Justice R.S. Pathak, Mr H.K. Dua, Mr R.S. Talwar and Justice S.S. Sodhi. — Tribune photo by Manoj Mahajan
CAST YOUR VOTE
Do you approve of IHF's Rs. 1000/- per goal idea?

ADVERTISEMENT
ADVERTISEMENT


CHANDIGARH

LUDHIANA

JALANDHAR

DELHI

HIMACHAL PLUS

HARYANA PLUS

AMRITSAR PLUS

LIFESTYLE

BRIDES WANTED

GROOMS WANTED

OTHERS

HOW TO PLACE ADVTS
HOROSCOPE

Benazir to return on Oct 18; no plan to deport her
Former Prime Minister Benazir Bhutto will return to Pakistan on October 18 ending her eight-year of self-exile, Pakistan People's Party announced here on Friday amid speculations that she has sorted out differences with President Musharraf on a package deal. The government said it had no plans to deport Bhutto on return while the PPP chairperson said she had not left the country under any agreement like former Premier Nawaz Sharif who was bundled back from airport to Saudi Arabia on Sept 10.


World page: Sehba may be covering candidate for hubby Mush
Vice-chairman of the Pakistan People's Party (PPP) Makhdoom Amin Fahim (centre) announces the date of return to Pakistan of party chairperson and former Pakistani premier Benazir Bhutto during a press conference in Islamabad on Friday. Bhutto will return from self-imposed exile on October 18. — AFP photo


After surge, some troop pull-back
President George W. Bush on Thursday touted U.S. military "successes" in Iraq and said these had made it possible for him to favour a limited troop withdrawal. In a primetime address to the nation, Bush backed recommendations made earlier in the week to Congress by army Gen. David H. Petraeus, U.S. commander in Iraq, and ambassador in Iraq Ryan C. Crocker on troops levels.


Bush speaks of Iraq 'successes'
In Amritsar Plus today
In Haryana Plus today
In Sports Tribune today

E - Revolution 2005:
A Two-day IT conclave

Assembly Elections - 2005

Turbans

Chandigarh is 50

125 Years of The Tribune
India: The Tasks Ahead

EARLIER FEATURES

Coming: National blood law
Chandigarh, September 14
Improper donation, storage and transfusion of blood will not go unnoticed now. For the first time in the medical history of India, the Ministry of Health and Family Welfare is working on a national blood law to cover the hitherto ignored malpractices in the field of blood donation, transfusion and management.
Ram integral to India: Govt
September 14, 2007
No proof Ram existed: Govt
September 13, 2007
Sharif party turns to SC
September 12, 2007
Sharif returns, deported to Jeddah
September 11, 2007
DGP Virk arrested
September 10, 2007
Sharif: No going back on going back
September 9, 2007
Court orders arrest of Shahbaz
September 8, 2007
Mush Prez till Nov 15
September 7, 2007
Pak SC: When will Mush term end?
September 6, 2007