PUNJAB

HARYANA

JAMMU & KASHMIR

HIMACHAL

REGIONAL BRIEFS

NATION

OPINIONS

MAILBAG

BUSINESS

SPORTS

WORLD
Tuesday, January 15, 2008, Chandigarh, India
Updated at 3:00 am (IST)

India, China to step up regular contact
Beijing, January 14
In a marked upswing, India-China relations moved to a higher and broader level with Prime Minister Manmohan Singh and Premier Wen Jiabao today declaring their commitment to more frequent and intensive high-level engagements.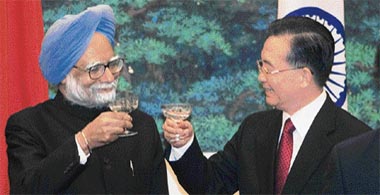 BHAI-BHAI: Prime Minister Manmohan Singh and Chinese premier Wen Jiabao share a toast after a signing ceremony held at the Great Hall of the People in Beijing on Monday. — Reuters
India-China Trade
PM calls for level-playing field
Beijing, January 14
India and China firmly grasped the nettle to make business the principal propellant for rapid advancement of the growing bilateral relationship. "Economic cooperation between us has become a principal driver of our strategic and cooperative partnership for peace and prosperity," was the upbeat note struck by Prime Minister Manmohan Singh in his address at the India-China Economic, Trade and Investment Summit here yesterday.
Global Army tenders for howitzers soon
New Delhi, January 14
With no fresh induction of artillery for over two decades, Chief of Army Staff Gen Deepak Kapoor said here this evening that the request for proposal aimed at procuring 140 ultra-light Howitzer guns had been issued at an estimated cost of Rs 10,000 crore.
CAST YOUR VOTE
Should molestation be made a non-bailable offence?



CHANDIGARH

LUDHIANA

BATHINDA

JALANDHAR

DELHI

HIMACHAL PLUS

HARYANA PLUS

JALANDHAR PLUS

AMRITSAR PLUS

LIFESTYLE

BRIDES WANTED

GROOMS WANTED

OTHERS

HOW TO PLACE ADVTS
Centre questions Punjab on power subsidy
Chandigarh, January 14
While pressure is building up on the Punjab government to pay power subsidy dues to the Punjab State Electricity Board (PSEB), the union government wants to know the criteria adopted to pay subsidy in lieu of free power to the farm sector and poor sections of the society in the state.
'84 Riots
Case against Tytler not to be closed, CBI tells HC
New Delhi, January 14
The CBI, under constant attack for deciding to close the 1984 anti-Sikh riot case against Congress leader Jagdish Tytler, today had no option but to furnish an undertaking to the Delhi High Court that the case against him will not be closed.


E - Revolution 2005:
A Two-day IT conclave

Assembly Elections - 2005

Turbans

Chandigarh is 50

125 Years of The Tribune
India: The Tasks Ahead

EARLIER FEATURES

Circus goes on: Brad out of pits
Perth, January 14
Cricket has become a circus. But, the hard news first. Probably, in an effort to ease the tension between the two teams, India has decided to drop charges against Australian left-arm spinner Brad Hogg.
3 NE states go to polls between
Feb 23-Mar 3
New Delhi, January 14
The Model Code of Conduct has come into force in Meghalaya, Nagaland and Tripura with the Election Commission today announcing the dates for Assembly elections in the three northeastern states. Polling will be held in Tripura on February 23, in Meghalaya on March 3 and in Nagaland on March 5.


Cong suspends Bhajan, 2 others
Chandigarh, January 14
In a major political development, Congress MLA and former Chief Minister Bhajan Lal and his two loyalist MLAs Dharam Pal Malik and Rakesh Kamboj were today suspended from the Congress for anti-party activities. A press release issued from the AICC headquarters in New Delhi said, "Shri Bhajan Lal, Shri Dharam Pal Singh Malik and Shri Rakesh Kamboj, MLAs, Haryana, have been suspended from the Indian National Congress for anti-party activities with immediate effect."
HOROSCOPE
China keen on N-cooperation
January 14, 2008

BCCI cools down, tour to go on
January 13, 2008
India-IAEA final round of talks on Jan 16
January 12, 2008
22 cops die in Lahore blast
January 11, 2008
7 Armymen, 8 others buried in avalanches
January 10, 2008
Billy for Bucknor, Bhajji back
January 9, 2008
Riot in Jalandhar jail
January 8, 2008
Bhajji banned for three Tests
January 7, 2008
Malana burns
January 6, 2008
No N-worry, Musharraf in command: Pranab
January 5, 2008