PUNJAB

HARYANA

JAMMU & KASHMIR

HIMACHAL

REGIONAL BRIEFS

NATION

OPINIONS

MAILBAG

BUSINESS

SPORTS

WORLD
Sunday, February 24, 2008, Chandigarh, India
Updated at 3:00 am (IST)

Army chief praises Kayani
New Delhi, February 23
The Indian Army Chief, Gen Deepak Kapoor, has said that the security situation vis-a-vis Pakistan "should improve" now that the elections have been held. In an interview with Karan Thapar for CNN-IBN programme Devil's Advocate, he praised the new Pakistan Army Chief, Gen Ashfaq Kayani, saying that "it is reassuring to have a person who is a professional soldier at the head of the Army" The interview will be broadcast tomorrow.



Gen Kapoor finds the presence of Gen Kayani (right) "reassuring"
Moves afoot to clip Musharraf's powers
Islamabad, February 23
Moves were afoot today to clip President Pervez Musharraf's sweeping powers despite the US standing by the beleaguered Pakistani leader rendered vulnerable after this week's parliamentary polls in which opposition parties scored stunning victories.



World page: Zardari spurns PML-Q overtures
IAEA vindicates our stand: Iran
Tehran, February 23
A report released by the UN nuclear watchdog has vindicated Iran's nuclear programme and left no justification for any UN Security Council sanctions, top government officials said today.
CAST YOUR VOTE
Has the government failed in tackling Naxalite violence?


CHANDIGARH

LUDHIANA

BATHINDA

JALANDHAR

DELHI

HIMACHAL PLUS

HARYANA PLUS

JALANDHAR PLUS

AMRITSAR PLUS

LIFESTYLE

BRIDES WANTED

GROOMS WANTED

OTHERS

HOW TO PLACE ADVTS
2 Adampur IAF officers booked for murder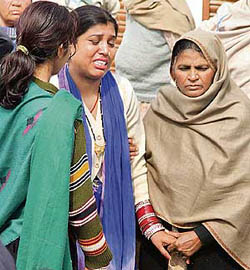 Jalandhar, February 23
The district police today booked two Adampur Indian Air Force (IAF) officers on the charge of the murder of a 26-year-old civilian employee here today. The case was registered on a complaint filed by the deceased man's father Govind Ram, working as Upper Division Clerk (UDC) with the force.

Sachin Bahri's sister Ritu being consoled by relatives on Saturday. — Photo by S.S. Chopra


E - Revolution 2005:
A Two-day IT conclave

Assembly Elections - 2005

Turbans

Chandigarh is 50

125 Years of The Tribune
India: The Tasks Ahead
India at Sixty
A Tribune Supplement

EARLIER FEATURES
Mandatory health insurance scheme for unorganised sector
New Delhi, February 23
Keeping its commitment to provide social security to all segments of working communities, the government today announced to make health insurance scheme mandatory for unorganised sector from April 1. Addressing a seminar on Knowledge of Pension and Retirement Schemes, organised by Assocham, union labour and employment secretary Sudha Pillai said the scheme would cover 1.6 crore workers of the unorganised sector.
Twenty20 cricket is gambling, ban it: CPI
Kolkata, February 23
The government should ban Twenty20 cricket and ascertain the source of income for the BCCI-backed multi-billion dollar Indian Premier League, veteran CPI leader Gurudas Dasgupta demanded on Saturday.


Mob thrashes murder accused
Hajipur, February 23
In yet another instance of vigilante justice, a youth — who was in police custody for allegedly murdering his friend over a petty dispute — was beaten up by a mob at a government hospital here today. Ravi Kumar, a college student who fatally stabbed his roommate Om Prakash for using a cellphone this morning, was taken away by a violent crowd from the policemen who were escorting him.
HOROSCOPE
Raj remarks dangerous: SC
February 23, 2008
Zardari, Sharif to form govt
February 22, 2008
No, it's not over: PM
February 21, 2008
Democracy strikes back in Pak
February 20, 2008
Mush loyalists trail
February 19, 2008
Opinion polls predict hung parliament
February 18, 2008
Maoists kill 15 in Orissa
February 17, 2008
ASI, six other cops booked
February 16, 2008
Pay more for petrol and diesel
February 15, 2008
End of Raj days; held, bailed out
February 14, 2008