Monday, April 28, 2008, Chandigarh, India
Updated at 3:00 am (IST)

Karzai escapes Taliban attack
Kabul, April 27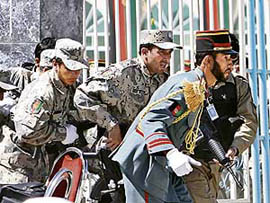 Afghan President Hamid Karzai escaped unhurt today after an assassination attempt by Taliban fighters who fired guns and rockets at an official celebration near the presidential palace in Kabul.

Afghan security personnel escape from an attack at a function near the presidential palace in Kabul on Sunday. — Reuters photo
...In NWFP, Taliban save 2 kidnapped Sikhs
Islamabad, April 27
Two Sikhs, who were abducted from a district in Pakistan's restive North- West Frontier Province (NWFP), have been rescued by the local Taliban and religious scholars, who decided to publicly hang their nine kidnappers on Monday to discourage crimes in the region.
'84 riot case scam: Ludhiana DC, SDM in dock
Ludhiana, April 27
Patiala division commissioner S.K. Ahluwalia, inquiring into the rejection of 1,200 cases of compensation for the 1984 Sikh riot victims, has put the Ludhiana deputy commissioner, along with an SDM and their three employees, in the dock for the mysterious rejection of hundreds of genuine cases and wrong approval to several fake and bogus claimants.