PUNJAB

HARYANA

JAMMU & KASHMIR

HIMACHAL

REGIONAL BRIEFS

NATION

OPINIONS

LETTERS

BUSINESS

SPORTS

WORLD
Wednesday, July 2, 2008, Chandigarh, India
Updated at 3:00 am (IST)

UPA close to getting Mulayam's support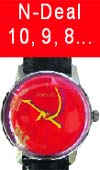 New Delhi, July 1
Taking seriously the Left threat to withdraw support to the United Progressive Alliance (UPA) government, if it proceeds with signing the nuclear safeguards agreement with the International Atomic Energy Agency (IAEA), the government has almost got the Samajwadi Party (SP), the Janata Dal-Secular and Rashtriya Lok Dal (RLD) on board.



Editorial: PM bites the bullet


Nation page: Doubts loom large over N-Deal
N-deal anti-Muslim, SP opportunist: Maya
Lucknow/New Delhi, July 1
Playing the Muslim card, Uttar Pradesh Chief Minister Mayawati today alleged that Mulayam Singh Yadav decided to support the Congress on the Indo-US nuclear deal because the Congress-led UPA government at the Centre had put on hold all the CBI inquiries against him.
(Details on Nation page)


CAST YOUR VOTE
Should reality shows be monitored for abuse?

Advt
ASTROLOGER GANJAWALA
Marriage, Job, Immigration, Foreign Tour, Business, Solve with Sidh Hindu Remedies.
+91-98155-95108 (INDIA)


CHANDIGARH

LUDHIANA

BATHINDA

JALANDHAR

DELHI

HIMACHAL PLUS

HARYANA PLUS

JALANDHAR PLUS

AMRITSAR PLUS

LIFESTYLE

BRIDES WANTED

GROOMS WANTED

OTHERS

HOW TO PLACE ADVTS
In Health & Fitness today
In Jobs & Careers today
Jammu burns, curfew in many areas
75 hurt in clashes during bandh
Jammu, July 1
As many as 75 persons were injured, three with bullet injuries, as protesters clashed with the police at several places during the Jammu bandh called by the BJP and like-minded parties. Curfew has been imposed at various places in the city.



J&K page: Vohra calls session on July 7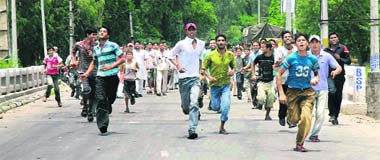 Protesters run towards police barricades against the revocation of order on land for Amarnath board in Jammu. — A Tribune photograph
BJP calls for strike
New Delhi, July 1
Protesting against the Jammu and Kashmir government's decision to revoke the order to allot 40 hectares of land to Shri Amarnath Shrine Board (SASB), the BJP today called for a nationwide strike on July 3 alleging that the decision amounted to total surrender to fundamentalist and separatist forces.


A Tribune Exclusive
Why Eurocopter deal was scrapped
Relative of top Army officer tried to pass off civilian model as military one
New Delhi, July 1
Bribery and scandal, which would have played with the lives of troops in Siachen, involving a middleman who was a relative of a serving top-level Army official and was trying to pass off a civilian helicopter as a military version, finally led to the scrapping of the $ 600 million Eurocopter deal.

In Amritsar Plus today
In Jalandhar Plus today

E - Revolution 2005:
A Two-day IT conclave

Assembly Elections - 2005

Turbans

Chandigarh is 50

125 Years of The Tribune
India: The Tasks Ahead

India at Sixty
A Tribune Supplement

EARLIER FEATURES

Sensex falls 500 pts, slips below 13K
Mumbai, July 1
The Sensex has breached the 13,000 mark on the way down while the Nifty closed below 3,900, thereby showing signs of a further downtrend in the coming days, according to analysts. As rising oil prices provoked fears of a prolonged recession globally, the Indian markets took a beating. Reports of OPEC predicting oil at $170 per barrel wreaked havoc.



Business page: Re loses 31 paise
Renuka to parents: Don't send kids to reality shows
Kolkata, July 1
Holding that the reality shows were violating rights of children, Union Minister for Woman and Child Development Renuka Chowdhury on Tuesday said that parents should be prevented from sending their children to such shows.
(Details on Nation page)


Is this Synedrella noxious?
Dharamsala, July 1
What is a weed? A plant whose virtues have never been discovered, wrote Ralph Waldo Emerson. That's what scientists at the Institute of Himalayan Bio-resource Technology (IHBT), a CSIR center at Palampur, have got down to doing — to find out if "Synedrella vialis" is indeed of good virtue or a cousin of the infamous Congress grass, the noxious weed that is suspected to have traveled to India with the wheat imported from America.
In Himachal Plus today
HOROSCOPE
PM offers to face House
July 1, 2008
Left refuses to budge
June 30, 2008

PDP pulls out over land row
June 29, 2008

Sensex falls 619 points
June 28, 2008
Beig, Omar ask Guv to revoke order
June 27, 2008
UPA, Left give more time to N-standoff
June 26, 2008
Repo rate, CRR hiked
June 25, 2008
No polls, please: Allies
June 24, 2008
Don't be passive spectator
June 23, 2008
The day after, Maya deflates UPA
June 22, 2008