CHANDIGARH

LUDHIANA

BATHINDA

JALANDHAR

DELHI

DEHRADUN

DEHRADUN PLUS

HIMACHAL PLUS

HARYANA PLUS

JALANDHAR PLUS

AMRITSAR PLUS

LIFESTYLE

BRIDES WANTED

GROOMS WANTED

OTHERS

HOW TO PLACE ADVTS

In Education Tribune today

Dehradun edition launched
The Tribune has stood up to the system: CM
Dehradun, October 20
"The Tribune has upheld the high standards of journalism. One feels good while reading The Tribune, which is not the case with many newspapers," said Uttarakhand Chief Minister Maj Gen B C Khanduri (retd), while launching the Dehradun edition of The Tribune in the state capital today.



Dehradun page: BJP to launch statewide agitation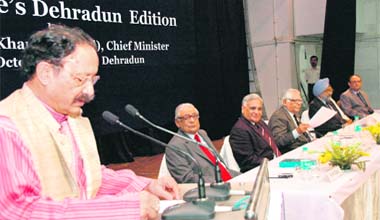 Uttarakhand Chief Minister B. C. Khanduri addresses the gathering at the launch function of the Dehradun edition of The Tribune in Dehradun on Monday. Editor-in-Chief H. K. Dua, Lt. Gen S. S. Mehta (retd), Prof R. P. Bambah and Justice S. S. Sodhi (retd), all trustees of The Tribune, are on the dais. Tribune photo: Vinod Pundir
Russia for India's inclusion in G-8, UNSC
New Delhi, October 20
Russia today strongly advocated India's inclusion in the G-8 grouping of top industrialised nations so that it could play its due role in global efforts to find a solution to the unprecedented economic crisis.
PM to leave for Japan, China today
New Delhi, October 20
Prime Minister Manmohan Singh leaves here tomorrow on five-day visit to Japan and China, during which he will have meetings with top world leaders on the current financial crisis, which has destabilised the global economy.
In Dehradun Plus today

In Haryana Plus today


E - Revolution 2005:
A Two-day IT conclave

Assembly Elections - 2005

Turbans

Chandigarh is 50

125 Years of The Tribune
India: The Tasks Ahead

India at Sixty
A Tribune Supplement

EARLIER FEATURES

Raj days continue
Mumbai, October 20
Maharashtra Navnirman Sena chief Raj Thackeray remains unrepentant a day after his activists ran riot in different parts of the state beating up candidates from other parts of the country who appeared to take a railway examination.



Nation page: LS adjourned twice amid high drama


Editorial: Thackeray's thuggery
Revolt against Khanduri?
17 BJP dissidents resign from Uttarakhand Assembly
New Delhi, October 20
The 18-month-old government of Chief Minister B.C. Khanduri in Uttarakhand appeared in serious trouble with his detractors in the BJP claiming here today that 17 MLAs had submitted resignations from the state Assembly.
SC notice to Haryana on mining in Aravallis
New Delhi, October 20
The Supreme Court today issued notice to the Haryana government on a bunch of petitions seeking renewal of mining licenses in the Aravalli Hills region.


ADC dead, kidney row remains
Amritsar, October 20
Additional deputy commissioner (ADC), Tarn Taran, Kirpal Singh (51), died due to renal failure in a private hospital at Mohali last night. He was cremated with state honours here today. He died after fighting for life for more than one month.

HOROSCOPE

J&K poll from Nov 17
October 20, 2008
Tamil interests safe: Lanka
October 19, 2008
Sensex bowled 9,975...
October 18, 2008
Rs 50 bonus for paddy farmers
October 17, 2008
Govt, RBI unlock Rs 65,000 crore
October 16, 2008
EC announces poll in 5 states
October 15, 2008
Assault on culture worrying, says PM
October 14, 2008
IMF backs G7 plan to stabilise markets
October 13, 2008
Economy, banks safe: RBI chief
October 12, 2008
Free fall on D-Street
October 11, 2008