No change, BJP high command tells rebels
Dehradun, October 25
In a bid to douse the fires of rebellion in Uttarakhand Bharatiya Janata Party (BJP), the party high command has reportedly asked rebel legislators to wait till the assembly and Lok Sabha elections are over and have ruled out any change in the state.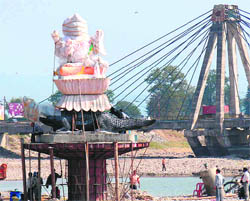 Ganga statue row resolved
Haridwar, October 25
Now Har-ki-Pauri will have another pilgrim and tourist attraction - a Makar Vahini Ganga statue. With both parties namely Katyayni trust and religious organisations, arriving at a compromise which paved the way for the installation of the statue before the Ganga closure at Har-ki-Pauri on the eve of Diwali.


The statue of the Ganga being installed at Har-ki-Pauri. — A Tribune photograph

Study finds rampant adulteration in food items
Dehradun, October 25
In the land of Gods, the path towards salvation is not easy. Devotees visiting holy shrines would be in for a rude shock, if told that the prasad they are offering to God and then faithfully partaking it is debased, not because there is less fervour in their devotion but due to the adulteration business that most of the Char dham route is hit by.
Fallout hits auto-loans


Dehradun, October 25
As a first casualty of the raging global financial storm, a key non-banking financial market player in the country Mahindra and Mahindra Financial Services Limited has quietly stopped its lending operations in Uttarakhand. The cascading effect is expected to force other active players here to follow suit if the situation fails to improve.
Govt doctors demand NPA
Dehradun, October 25
Government doctors in the state are demanding Non-Practice Allowance (NPA) be included in their salary structure as it is being done for Central government doctors and in Himachal Pradesh.
ITBP celebrates Founder's Day
Mussoorie, October 25
The 47th Founder's Day of the Indo-Tibetan Border Police (ITBP) was celebrated at the ITBP Academy here. Deputy Inspector-General R.S. Negi inspected the guard of honour.
Gorkha Rifles gears up for celebrations
Dehradun, October 25
The four-day Diamond Jubilee celebrations of Sixth Battalion, The Eighth Gorkha Rifles (Naughan), would get underway from coming November 2. Wreath laying, special sanik sammelan, release of diamond jubilee magazine and barakhana would be organised on the Battle Honour Day (Naghun Day), which falls on November 4.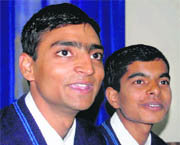 Jay, Praveen recount trek to Siachen
Dehradun, October 25
The two Rashtriya Indian Military College (RIMC) cadets Jay Kant Mishra and Praveen Kumar Singh got a first-hand experience of Siachen, the highest battlefield in the world. Both cadets were part of the 34-member second civilian Siachen Glacier Trek from October 1 to October 21.

Jay Kant Mishra (L) and Praveen Kumar Singh. — Tribune photo by Anil P Rawat

Extra precautions required, says DGP
Dehradun, October 25
The Uttrakhand DGP Subhash Joshi, today convened a meeting with police heads of all the districts through video conferencing.
Models walk the ramp at Thomso-08
Roorkee, October 25
Amid the presence of former Miss India and celebrated model Mehar Bhasin, the second night of Thomso-08 at the Indian Institute of Technology (IIT) was a breath-stopper where sculpted males and gorgeous females walked the ramp with their display of apparels at the fashion parade "Vogue".
Heart check-up camp begins today
Dehradun, October 25
Himalayan Institute for Environment Ecology and Development (HIFEED) in assistance with Municipal Corporation Dehradun will be organising a two-day heart check-up camp in the Corporation campus on Oct 26-27. Team of eminent cardiologists from Escorts Heart Institute, New Delhi led by Dr Piyush Jain will be extending their services at the camp.
Traditional 'gharats' to take over
Dehradun, October 25
Dr S R Rao advisor, Department of Science and Technology, today inaugurated a watermill at Sangotiyawala near Bhaniyawala, Dehradun.