Many disturbing questions about Medicity project
Chandigarh, October 27

More questions are being asked in the city about UT administrator S.F Rodrigues' favourite Medicity project that has hit the headlines. The controversy has hit the relations between Gen Rodrigues and his adviser Pradip Mehra, who has objected to the rationale of the project as well as the administrator's decision to part with prime public land on the cheap.
Unique washing of Hazur Sahib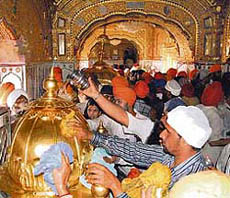 Nanded, October 27
It was a rare sight and a rare feeling when over 1 lakh devotees thronged the banks of the Godavri to bring holy water to wash the Takht Hazur Sahib shrine and "shastars"( weapons of the Guru's period) here today.
Over one lakh devotees washed the Hazur Sahib gurdwara and other buildings, on the eve of Diwali, on Monday.
— Tribune photo by Vishal Kumar

SC: No suspension of sentence in serious offences
New Delhi, October 27
Courts may suspend an accused's sentence only in exceptional cases and such a relief should not be extended in serious offences like murder, attempt to murder, rape and dacoity, the Supreme Court has said.
Asian, European stocks tumble again
Nikkei touches 26-year low
London, October 27
World markets today woke up to another nightmarish day, as Asian and European stocks wobbled under the spectre of economic slowdown, with Japanese benchmark Nikkei nosediving to a 26-year low.



ICICI's UK arm posts 160-cr loss
(Details on Business page)