Government unmoved by lawyers' protest
Dehradun, October 30
Every Saturday for the last 30 years, there has been practically no work at the district courts here. Reason:an unending strike by the District Bar Association (DBA) demanding a High Court Bench in the state capital.
Devotees throng Bulle Shah's mazar
Mussoorie, October 30
Annual celebrations (Urs) were held at the mazar of Baba Bulle Shah at Bala Hissar here today. Devotees turned up in large numbers to offer prayers.
Alok Ulfat's mission — social change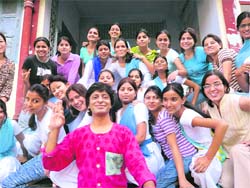 Dehradun, October 30
Call theatre personality Alok Ulfat a maverick or a man obsessed with a desire to bring social change through theatre. So deep is the desire to craft a new meaning that Alok even pushed his way just to make a point when the space for expression was denied.


Alok Ulfat imparting training in acting to a group of girls in Dehradun. Tribune photo: Vinod Pundir
Cleaning Ganga: Admn salutes people's efforts
Haridwar, October 30
With the Ganga flowing freely at Haridwar after 18 days of closure, district magistrate Anand Vardhan has thanked various organisations and people in lending their support to the mission to clean the Ganga.
Mother and Child Health
Data bank on the anvil
Dehradun, October 30
After proving to be a boon to countless patients across the state, the emergency EMRI 108 (Emergency Medical Research Initiative) service is now going to maintain a comprehensive data bank on the status of maternal and child health care.
School holds Kavi Sammelan
Dehradun, October 30
A Hindi Kavi Sammelan was organised at Oak Grove School. Hindi poets from Mussoorie, Dehradun, Roorkee and Haridwar recited poetry to audience comprising 600 students and town dignitaries
Gurta ki Gaddi
Special kirtan organised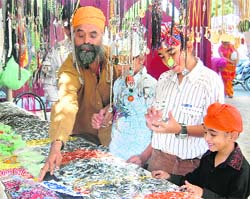 Dehradun, October 30
To mark 300 years of Gurta ki Gaddi, a shabad gayan programme was held at Gurdwara Sri Guru Singh Sabha, Aadath Bazaar, here. Head granthi of the gurdwara Giani Bhupal Singh said that Guru Granth Sahib preaches love and brotherhood among people of all sections.

Devotees shop at Gurdwara Govind Nagar in Dehradun on Thursday. Tribune photo Anil P. Rawat
Seven-day Brahmanad concludes
Dehradun, October 30
Brahmanad, a seven-day-long religious programme organised by Vishwa Jan Jagriti Mission (VJJM) for world peace, concluded today. Governor of Mizoram M.N. Lakhera attended the programme today.
ONGC keep up winning ways
Dehradun, October 30
ONGC continued its winning spree today by defeating Secretariat 1-0 in the Inter- Departmental District Football League underway at Pavilion Ground. With this win, ONGC is now comfortably placed at first position and has scored 16 points followed by Nagar Nigam at 13 points.
Shuttlers just can't do without govt help
Dehradun, October 30
Poor infrastructural facilities are affecting the career of several budding badminton players in the state. Despite the shortcomings, the state has produced several national-level players -- Satish Bhatia, Parul Priyadarshani and more.