PUNJAB
HARYANA
JAMMU & KASHMIR
HIMACHAL
REGIONAL BRIEFS
NATION
OPINIONS
LETTERS
BUSINESS
SPORTS
WORLD
Wednesday, June 3, 2009, Chandigarh, India
Updated at 3:00 am (IST)

Pak frees 26/11 accused
Lahore HC says no proof against JuD chief Hafiz Saeed
Lahore, June 2


In a setback to the 26/11 probe, banned Jamaat-ud-Dawa chief Hafiz Mohd Saeed, who had been under house arrest for nearly six months for his suspected role in the Mumbai terror attacks, was today set free by the Lahore High Court. A close aide of 59-year-old Saeed, Col Nazir Mohammad (Retd), also held in connection with the same attacks, too, was set free.
A file photo of JuD chief Hafiz Mohd Saeed
Shocked India slams Islamabad
New Delhi, June 2
India's worst fears have come true. Pakistan has once again ratcheted tension with India and given a body blow to any prospects of the resumption of the bilateral composite dialogue by allowing Hafiz Saeed, founder of the banned Jamat-ud-Dawa (JuD), to walk away a free man after his acquittal by a court.
CAST YOUR VOTE
Do better-than- expected corporate quarterly results show that India's economy is facing the global recession well?

Advt
India's Renowned Astrologer, Palmist, Tell your DOB,
0172-4372411, 09316048411.
Today's specials
J&K PLUS

AMRITSAR PLUS

JALANDHAR PLUS

HIMACHAL PLUS

HEALTH & FITNESS

JOBS & CAREERS

BRIDES WANTED
GROOMS WANTED
OTHERS
HOW TO PLACE ADVTS
EDUCATION
JOBS & CAREERS
HEALTH & FITNESS
SCIENCE & TECHNOLOGY
REAL ESTATE
SPORTS
TRIBUNE CLASSIFIEDS
Another attack as Oz plans tougher law
Melbourne, June 2
Another Indian student was attacked by a group of men here Tuesday even as the provincial government of Victoria pushed for a plan that would entail tougher sentences for hate crimes.
PMO under fire on RTI replies
New Delhi, June 2
The apathy towards the Right to Information (RTI) Act by the very same government departments which brought in the law to strengthen the common man has been visible over and over again in various decisions of the Central Information Commission (CIC).
NDA 60 Glorious Years
1857 The First Challenge
E - Revolution 2005:
A Two-day IT conclave
Assembly Elections - 2005
Turbans
Chandigarh is 50
125 Years of The Tribune
India: The Tasks Ahead
India at Sixty
A Tribune Supplement
EARLIER FEATURES
BJP picks Munda for Dy Speaker's post
New Delhi, June 2


BJP parliamentary board met here today at the residence of Leader of Opposition LK Advani to recommend the name of its Khunti MP Kariya Munda for the Deputy Speaker's post, offered earlier by the government to the Opposition.
Kariya Munda
Strike hits tourist arrivals in Valley
Srinagar , June 2
For Ajay Kumar and his seven colleagues from New Delhi visiting Kashmir, it has been a difficult time since Monday morning with the beginning of the general strike against the death of two women in the Shopian area of south Kashmir. The group, on a week-long tour to the valley, is waiting in a hotel room here for their scheduled departure tomorr
Gandhis show they care for clan
Varun surprises Sonia by greeting her; the aunt smiles back
New Delhi, June 2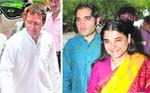 It's rare to see the politically divided Gandhis under osne roof; rarer still to see them warm up to each other.
Gandhis all: Rahul, Varun and Maneka arrive for the LS session
PM hopes for a 'new beginning'
June 2, 2009
Enraged Indians rally for justice in Melbourne
June 1, 2009
Anger mounts as Oz image takes a hit
May 31, 2009
Horror Down Under
May 30, 2009
Sibal gets HRD, Sharma Commerce
May 29, 2009
Manmohan calls up 59 MPs
May 28, 2009
Punjab limps back to life
May 27, 2009
Army out to restore peace
May 26, 2009
Row over: DMK to join govt
May 25, 2009
Team Manmohan gets going
May 24, 2009
Manmohan Singh sworn in as PM
May 23, 2009