Miniature of damaged Akal Takht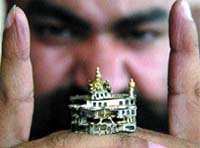 Amritsar, June 5
A local artist, Gurmeet Singh, has made a miniature form of the damaged Akal Takht to commemorate the 25th anniversary of the infamous Operation Bluestar. Gurmeet said it took him four days to recreate the damaged Akal Takht in gold and silver, weighing 18.60 milligrams, measuring a quarter of an inch in height and one inch each in length and breadth. He said he had been creating similar models as a hobby and would continue to develop various miniatures of the Golden Temple and photographs of Sikh gurus. — Photo: Vishal Kumar
Sultanwind area, a picture of neglect
PSHRC asks MC about steps taken to improve civic conditions
Amritsar, June 5
The Punjab State Human Rights Commission (PSHRC) has asked the Municipal Corporation and Deputy Commissioner to apprise the commission of steps taken during the last one year for improving the civic conditions and other essential amenities in the historic Sultanwind area, which has been a picture of neglect even as it came under the jurisdiction of the Municipal Corporation in 1978.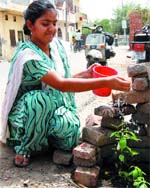 World Environment Day
Rallying for environment
Amritsar, June 5
Various NGOs and educational institutes today observed World Environment Day by organising rallies, seminars, etc. Guru Nanak Dev University observed the day under the auspicious of its Department of Botanical and Environmental Sciences here today.


I CARE: A young girl waters her plants on World Environment Day in Amritsar. Photo: Vishal Kumar
Finally, area cleared for construction of ICP
Amritsar, June 5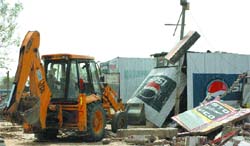 The district administration today swung into action to clear the area around the Attari international border by demolishing 25 to 30 kiosks and shops and temporary shelters, which had been occupying a big chunk of government land, to pave way for the construction of the integrated check post (ICP).
Kiosks and shelters being demolished near Attari joint check post. Photo: Vishal Kumar
BSNL launches 3G, IPTV services
Amritsar, June 5
Kuldeep Goyal, chairman-cum-managing director, BSNL, launched 3G and IPTV services here today. Residents of the holy city could now avail video calls and video conferencing through mobile phone besides enjoying television on their mobile sets.
Durgiana complex to get Shani Temple
Amritsar, June 5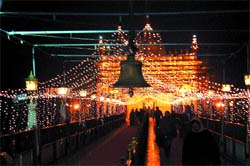 The 84th foundation day of the Laxmi Narayan Temple at the Durgiana Temple was celebrated here on Tuesday. The whole temple complex was illuminated and the idols of Krishna and Radha were decorated with flowers. Famous singer Banwari Lal regaled the audience with bhajans, while Sadhvi Purnima from Vrindavan delivered religious discourses to enlighten the devotees present on the occasion. Special stalls were set up to provide "puri-chhole", sweets and cold water.
A view of illuminated Durgiana Temple in Amritsar. Photo: Vishal Kumar
DAV girl wins trip to China
Amritsar, June 5
Pritika Sharma, a student of VIII standard of DAV Public School, has won a fully-sponsored trip to China along with 9 students in the country to observe the longest total solar eclipse of the 21st century falling on July 22.
GND varsity association criticises ex-VC
Amritsar, June 5
The Guru Nanak Dev University (Non-Teaching) Employees Association here today criticised the policies of a former Vice-Chancellor of the university for allegedly stopping the long-pending promotions of employees. While hailing the present incumbent and officiating Vice-Chancellor, Anjali Bhawra, for removing hurdles and giving clearance to the promotions, Swinderjit Singh and Surjit Singh Cholia, president and secretary, respectively, of the association, said the delay in promotions had affected the working of the university.
30 students get Rs 1.2 cr as education loan
Amritsar, June 5
Canara Bank, Dharam Singh Market branch, with a motive to encourage the students in their higher studies, handed over the sanctioned letters of education loan worth Rs 1.20 crore to 30 meritorious students of the district who were selected in the IIT and AIEEE. Chief Manager Kulbhushan Arora distributed the cheques.
Late Manveen Sandhu gets Best Principal Award
Amritsar, June 5
Late Manveen Sandhu has been posthumously awarded the Best Principal Award by the Science Olympiad Foundation, New Delhi, for her contribution to promote the healthy competitive spirit among students and for being a leader of matchless merit and mettle.
'Conservatism rules Pakistani society'
Amritsar, June 5
The male dominated society of Pakistan was not ready to accept multicultural society, especially for women who belonged to different cultural and religious backgrounds.
My City
That was VJ Hospital
It was a winter afternoon in 1958. I vividly remember my father telling my mother that steam engines pulling trains running on the rail line on the southern side of Victoria Jubilee Hospital here were causing much disturbance to the patients and doctors alike and the government was seriously considering diverting the rail line from the then outskirts of Amritsar to the city railway station via Bhagtanwala rail line.
Kisan Union threatens dharna on June 9
Amritsar, June 5
The Kirti Kisan Union would organise a dharna near the office of the Subdivisional Magistrate on June 9 to protest against the bid to grab 104 kanal of panchayati land allegedly in connivance with the civil and police authorities.
SGPC chief should study maryada violation: Calcutta
Amritsar, June 5
SGPC member Manjit Singh Calcutta has expressed his reservation on the reaction of SGPC chief Avtar Singh following the assassination of Sant Ramanand at Vienna.
Listening Post
If you have a grievance against a public utility, or if you have a complaint about any dealing with a public servant, in a government office, bank, finance company, post office, insurance company, in a train or at a bus stand… or if your grievance has not been attended to, send an e-mail to jalandhar@tribunemail.com or jalandhartribune@yahoo.com, or post the complaint to News Editor, Amritsar Plus (Listening Post), The Tribune, SCO 20, Ladowali Road, Jalandhar. Complaints against individuals will not be entertained. Your complaint is our concern and The Tribune offers to suitably highlight it.