Allocate more funds to revive industry, PPBM urges FM
Amritsar, June 9
The Punjab Pradesh Beopar Mandal (PPBM) has written to Union Finance Minister Pranab Mukherjee and has urged that on the line of Rs 3,150 crore under Jawahar Lal Nehru Urban Renewal Mission (JNURM) scheme for the development of infrastructure and civic amenities of the holy city, another package of the same amount be sanctioned for revival of its industry.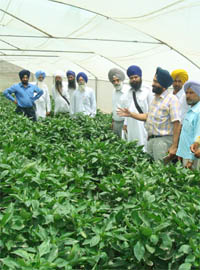 Farmers learn about net house


Tarn Taran, June 9
The Horticulture Department organised a training camp at Thathian Mahantan village, 20 km from here, to create awareness among the farmers as to how to grow vegetables in a net house. The camp gave knowledge to the farmers on the net houses, how these houses saved the vegetables from insects and diseases. A large number of vegetable growers of the area participated in the camp.

A Horticulture Department official explains the features and techniques of net house farming in Amritsar. A Tribune photograph

Veteran soldier awaits recognition
Amritsar, June 9
A World War-II veteran soldier is waiting for recognition of his services in the British-Indian Army and hoping for some financial aid.
Eyebrows raised over partial covering of drain
Amritsar, June 9
Eyebrows are being raised over the partial covering of the drain passing behind the district urban office of the BJP, known as Shahid Harbans Lal Khanna Samarak.
DC urged to ban GM foods
Amritsar, June 9
Launching the third phase of a nationwide campaign against genetically modified (GM) food crops under the banner of "Alliance for safe and GM free food", members of the various NGOs have decided to present a memorandum to the MPs and Deputy Commissioners urging them to take an initiative to ban the introduction of GM foods in the Indian markets.
My City
52nd death anniversary of Bhai Veer Singh today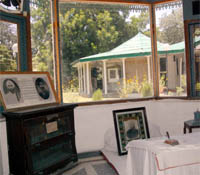 Amritsar, June 9
The 52nd death anniversary of great Punjabi poet Bhai Veer Singh will be observed at his residence on Lawrence Road, which has been turned into a museum, tomorrow. Born on December 5, 1872, Bhai Veer Singh passed his matriculation examination by getting gold medal. He led the Singh Sabha movement in 1882 and was instrumental in setting up the Wazir-e-Hind press, besides establishing Khalsa College in the holy city in coordination with Sunder Singh Majithia and other eminent persons.
Border village makes it to NDA
Amritsar, June 9
Residents of Chak Mishri Khan village, 7 km from the international border with Pakistan, were jubilant over the selection of the village's 17-year-old youth in the coveted National Defence Academy, Khadakwasla, Pune, for training as an Air Force cadet.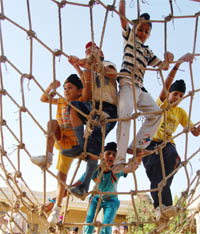 Sirjana camp for children


Amritsar, June 9
The Akaal Purkh Ki Fauj (APKF) in association with the Shiromani Gurdwara Prabandhak Committee (SGPC) organised a three-day Sirjana camp for Sikh children which started at Gurdwara Chheharta here today.

Children have fun at Sirjana camp in Amritsar. Photo:
Vishal Kumar

In the service of the poor since 1982
Amritsar, June 9
The Seva Bharti Society is doing yeoman's service by providing education at its various Baal Sanskar Kendras in the holy city and the rural areas of this border district to the bright students of the poor families.
No power interruption during PM's rally: PSEB
Amritsar, June 9
The Punjab State Electricity Board has said there was no interruption in the power supply during the PM's election rally held here on May 11. It said that the whole staff was on duty to ensure proper supply of power during the rally.
Dowry Demand
Husband, in-laws booked
Amritsar, June 9
The Ajnala police has booked Dinesh Kumar of Ajnala, who had returned from England along with his five family members, for allegedly demanding dowry from his wife Kusum Kumari. A resident of Chandigarh, Kusum in her complaint lodged with the Ajnala police alleged that her husband and his family beat her up and threw her out of the house. Now, she is living in her father's house.