PUNJAB
HARYANA
JAMMU & KASHMIR
HIMACHAL
REGIONAL BRIEFS
NATION
OPINIONS
LETTERS
BUSINESS
SPORTS
WORLD
Thursday, August 13, 2009, Chandigarh, India
Updated at 3:00 am (IST)

H1N1 claims five more
After Pune, Mumbai shuts down schools, malls
Mumbai/New Delhi, August 12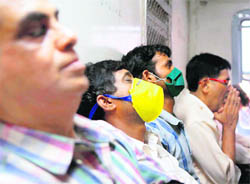 Continuing its deadly march, the H1N1 virus today claimed five more lives, including four in the 'epidemic city' Pune, taking the death toll in the country to 17. The fifth casualty was reported from Nashik.


Health cards for passengers must, airlines told

PIL on Ganesh Utsav can wait, rules SC

3 confirmed cases in UP

Passengers wear protective respiratory masks as a precaution against swine flu while travelling in a Mumbai local train on Wednesday. — PTI

CAST YOUR VOTE
Should schools be closed to prevent the spread of swine flu?

EDUCATION
JOBS & CAREERS
HEALTH & FITNESS
SCIENCE & TECHNOLOGY
REAL ESTATE
SPORTS
TRIBUNE CLASSIFIEDS

Apollo refuses to screen, treat
Says can't put its patients at risk
New Delhi, August 12
Two days after Health Minister Ghulam Nabi Azad invited private hospitals to help the government with screening, testing and treatment of swine flu patients, private healthcare major Indraprastha Apollo Hospitals bowed out of the process, becoming the first private facility to refuse such testing.
New tax code unveiled, to replace I-T Act
New Delhi, August 12
Making the process of paying taxes simpler for the common man has always been on top of the UPA's agenda. This was amply demonstrated today with the government initiating radical tax reforms by releasing the direct tax draft code that aims to moderate tax rates and at the same time tries to make it easier for a layman to understand and calculate his tax liability.
NDA 60 Glorious Years
1857 The First Challenge
E - Revolution 2005:
A Two-day IT conclave
Assembly Elections - 2005
Turbans
Chandigarh is 50
125 Years of The Tribune
India: The Tasks Ahead
India at Sixty
A Tribune Supplement
EARLIER FEATURES
On Sundays
On Saturdays
Power cuts get longer in Punjab
Only Badal village gets regular supply
Chandigarh, August 12
Power consumption in Punjab reached a never before figure of 2,022 lakh units (LU) today, forcing the Punjab State Electricity Board (PSEB) to enforce power cuts ranging from seven to 12 hours on all category of consumers, including the general industrial sector that faces three off days in a week now.


Editorial: Punjab, Haryana reeling


26/11 terrorists came from Karachi: FBI
Mumbai, August 12
Reinforcing the Pakistan link to the Mumbai terror attack, the FBI in a crucial testimony at the trial of the lone surviving gunman Ajmal Kasab said today the global positioning system (GPS) devices used by terrorists showed they had come from Karachi.


Finally, Shopian case goes to CBI
Srinagar, August 12
The state government has decided to refer investigations in the Shopian case to the CBI following reports that the two vaginal samples sent to the CFSL had been tampered with. The issue came up in the state Assembly, at present in session, prompting the Speaker amid noisy scenes to suspend Question Hour.
Water, power woes deepen
August 12, 2009
Three more deaths as govt sketches strategy
August 11, 2009
NRI, teacher new fatalities
August 10, 2009
Finally, drought reality sinks in
August 9, 2009
Govt wakes up on food front
August 8, 2009
Rush for test, only if you must: Govt
August 7, 2009
Panic in Pune as 3 more test +ve
August 6, 2009
Jittery govt rewrites H1N1 rules
August 5, 2009
First swine flu death in country
August 4, 2009
Pvt airlines call off strike
August 3, 2009