PUNJAB
HARYANA
JAMMU & KASHMIR
HIMACHAL
REGIONAL BRIEFS
NATION
OPINIONS
LETTERS
BUSINESS
SPORTS
WORLD
Wednesday, January 6, 2010, Chandigarh, India
Updated at 3:00 am (IST)

Let's tackle terror in democratic way: PM
Urges visiting Commonwealth speakers, presiding officers to give suggestions
New Delhi, January 5
From the forum of the 20th Commonwealth Speakers' Conference today, India denounced the growth of extremist ideologies and called for sustained international cooperation to tackle the threat of terrorism. Inaugurating the conference in the capital, Prime Minister Manmohan Singh said no quarter could be given to extremist forces and that terrorism needed to be eliminated in ways that "did not undermine the democratic foundations".


Nation page: India, Pak Speakers break the chill with bonhomie
CAST YOUR VOTE
Should the Ruchika Girhotra molestation case be re-opened?

EDUCATION
JOBS & CAREERS
HEALTH & FITNESS
SCIENCE & TECHNOLOGY
REAL ESTATE
SPORTS
Rathore booked under Sec 306
Panchkula, January 5
In a fresh move that will further tighten the noose on disgraced former Haryana top cop SPS Rathore, the Panchkula police today slapped an abetment to suicide case on him under Section 306 of the IPC.


Editorial: Unworthy of medals
Cold wave abates, just a bit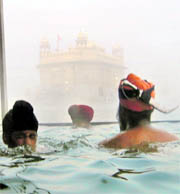 New Delhi, January 5
The biting cold wave abated somewhat in North India today as the sun came out, lifting the fog as also temperature in some parts of Punjab, Haryana and Chandigarh. The Jammu-Srinagar national highway also reopened after being closed for two days due to heavy snowfall.

Braving intense cold, devotees take a dip in the Golden Temple sarovar on the birth anniversary of Guru Gobind Singh in Amritsar on Tuesday. — AFP

Another Indian's body found in Oz
New Delhi issues travel advisory
Melbourne/New Delhi, January 5
Days after a 21-year-old Indian was stabbed to death here, the Australian police today found a partially-charred body of another youth from the country in New South Wales, amid diplomatic efforts to ease strains in ties over frequent attacks on the community.


Nabha family in shock

Editorial: A heinous crime
Advt
NDA 60 Glorious Years
1857 The First Challenge
E - Revolution 2005:
A Two-day IT conclave
Assembly Elections - 2005
Turbans
Chandigarh is 50
125 Years of The Tribune
India: The Tasks Ahead
India at Sixty
A Tribune Supplement
EARLIER FEATURES
On Sundays
On Saturdays
Govt succeeds in buying time on Telangana
New Delhi, January 5
With law and order having become the first priority in Andhra Pradesh, the Union Government today succeeded in persuading all participants attending the all-party meeting on Telangana to jointly issue an appeal for wider consultations. Notwithstanding lack of consensus on the issue, almost all participants from eight political parties of Andhra Pradesh signed a joint appeal to maintain peace and assist the government in controlling law and order.


Nation Page: Strike hits transport services across AP
1,175 Punjab schools sans principal for a decade
Chandigarh, January 5
Improving the quality of education in government schools seems to be just another agenda on the list of things to do for the SAD-BJP coalition government in Punjab. Other than speaking about "adarsh schools", the current government has been no different from the previous Congress regime as both failed to appoint principals in majority of the senior secondary schools.


Steaming success for villagers
Pool money, get railway station
Taj Nagar (Gurgaon), January 5
Where there is a will, there is a way. The residents of this hitherto non-descript village in Gurgaon district have proved this old adage true even in the present era, when authorities' apathy towards common man's plight has become the order of the day.
TODAY'S SPECIALS
HIMACHAL PLUS

J&K PLUS

JALANDHAR PLUS

AMRITSAR PLUS

JOBS & CAREERS

HEALTH & FITNESS

Rathore to lose police medal
January 5, 2010
Fog brings life to a standstill
January 4, 2010
Fog throws life out of gear in region
January 3, 2010
Rathore gets interim relief
January 2, 2010
CBI gets sanction to prosecute Sajjan
January 1, 2010
Rathore faces SIT probe
December 31, 2009
Ruchika case to be re-probed
December 30, 2009
Tharoor 'tweet' earns rebuff from Krishna
December 29, 2009
Headley not to be extradited: FBI
December 28, 2009
AP Guv ND Tiwari resigns
December 27, 2009