PUNJAB
HARYANA
JAMMU & KASHMIR
HIMACHAL
REGIONAL BRIEFS
NATION
OPINIONS
LETTERS
BUSINESS
SPORTS
WORLD
Saturday, January 16, 2010, Chandigarh, India
Updated at 3:00 am (IST)

Rana, Headley indicted
Did legwork, provided material support to LeT for 26/11
Chicago, January 15
Pakistani-origin Chicago resident Tahawwur Hussein Rana was today indicted by a federal grand jury here along with American citizen David Coleman Headley on charges of preparing the groundwork and providing material support for the LeT to carry out the Mumbai terror attack.
World page: LeT sought Kasab's release in lieu of hostages
CAST YOUR VOTE
Is Hockey in India being neglected?

EDUCATION
JOBS & CAREERS
HEALTH & FITNESS
SCIENCE & TECHNOLOGY
REAL ESTATE
SPORTS
What a spectacle!
Faith & science converge to watch Ring of Fire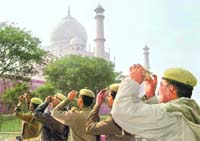 New Delhi, January 15
Millions of Hindus bathed in holy rivers and tanks across India after a four-hour celestial spectacle that turned the sun into a 'Ring of Fire', bringing out science enthusiasts to view and record the rare event.
Jawans observe the eclipse near Taj Mahal in Agra on Friday. — PTI
Haryana page: Below expectation crowd at K'shetra

Nation page:Tamil Nadu watches rare celestial event
Aussies to bring own cops for C'wealth Games
Melbourne, January 15
Jittery about the security in India, Australian delegation for this year's Commonwealth Games in Delhi will be accompanied by the country's Federal Police.
'Determined to act against attackers'
New Delhi, January 15
Amid an outcry in India over violence against Indian students Down Under, Australian High Commissioner Peter Varghese today said the Australian authorities were determined to find out and take action against those involved in the attacks on Indians.



Advt
NDA 60 Glorious Years
1857 The First Challenge
E - Revolution 2005:
A Two-day IT conclave
Assembly Elections - 2005
Turbans
Chandigarh is 50
125 Years of The Tribune
India: The Tasks Ahead
India at Sixty
A Tribune Supplement
EARLIER FEATURES
On Sundays
On Saturdays
Oz man thrashes Indian cabbie; jailed within hours

A man, who went berserk in an alcohol-fuelled racist attack on an Indian taxi driver around 2.15 a.m. today, was swiftly awarded 3-month imprisonment and fined A$ 1,520 within hours of his being caught.
A SAD protester at a rally in New Delhi on Friday. — A Tribune photograph


SAD protests hate attacks
Plum postings for SIs, ASIs: 6 DGP office clerks booked
Mohali, January 15
The Punjab police today registered a case of corruption against six clerks of the Chandigarh-based office of the state police chief for allegedly facilitating prized postings for around 400 non-gazetted officers, including assistant sub-inspectors and sub-inspectors, after their promotion.
Maths Greek to rural 5th graders
64 pc of them can't divide; 40 pc can't read
New Delhi, January 15
With almost half of Class V children in rural India three grades behind in learning levels than where they should be and 64 per cent unable to divide, quality of school learning remains the single biggest challenge for the government, working to notify the Right to Education Act.


Some hope on English front
Teen from Pak a potential fidayeen
January 15, 2010

CBI chargesheets Sajjan Kumar
January 14, 2010

CJI office comes under RTI: HC
January 13, 2010

India, B'desh ink key pacts
January 12, 2010

'Substantial' land lost to China: Report
January 11, 2010

All terror groups still active in Pak: Antony
January 10, 2010
No anticipatory bail for Rathore
January 9, 2010
Srinagar siege ends
January 8, 2010
Militants strike in Srinagar, cop killed
January 7, 2010
Let's tackle terror in democratic way: PM
January 6, 2010