PUNJAB
HARYANA
JAMMU & KASHMIR
HIMACHAL
REGIONAL BRIEFS
NATION
OPINIONS
LETTERS
BUSINESS
SPORTS
WORLD
Thursday, January 28, 2010, Chandigarh, India
Updated at 3:00 am (IST)

Rajapaksa wins second term
Fonseka wants foreign protection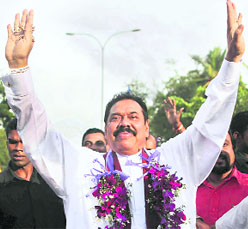 Sri Lankan President Mahinda Rajapaksa on Wednesday won a second term in office trouncing united opposition candidate Sarath Fonseka, his one-time army chief in jointly eliminating the LTTE who later parted ways.
Sri Lankan President Mahinda Rajapaksa waves to supporters after election results were announced in Colombo on Wednesday. — AP/PTI

Nation page: India hopes for speedy rehab of Lankan Tamils

Editorial: Rajapaksa returns
CAST YOUR VOTE
Is Hockey in India being neglected?

Advt
EDUCATION
JOBS & CAREERS
HEALTH & FITNESS
SCIENCE & TECHNOLOGY
REAL ESTATE

SPORTS
Land Scam


Antony orders court martial of Lt Gen
New Delhi, January 27
Virtually cracking the whip and differing from the opinion of the Indian Army chief, Defence Minister AK Antony today recommended that court martial proceedings be initiated against military secretary Lt Gen Avadesh Prakash.
Food, Shelter for Homeless
SC notice to states, UTs
New Delhi, January 27
The Supreme Court today issued notice to all states and UTs, seeking their response to suggestions for setting up of night shelters for the urban homeless and community kitchens for poor people.
Sensex tanks 490 points
Mumbai, January 27
The Sensex fell 490 points as investors fled emerging markets like India amidst concerns over China and the US moving towards curbing liquidity.
| | |
| --- | --- |
| | PUNJAB: Sukhbir declares war on drug peddling |
| | |
| | |
| | HIMACHAL: Road accident panels to give quick relief |
| | CHANDIGARH: Thieves target ex-Mayor's house |
NDA 60 Glorious Years
1857 The First Challenge
E - Revolution 2005:
A Two-day IT conclave
Assembly Elections - 2005
Turbans
Chandigarh is 50
125 Years of The Tribune
India: The Tasks Ahead
India at Sixty
A Tribune Supplement
EARLIER FEATURES
On Sundays
On Saturdays
Krishna seeks officer for image makeover
New Delhi, January 27
Feeling let down by his publicity managers, External Affairs Minister SM Krishna has sought the appointment of a special officer on his personal staff who will be mandated to handle his image-building.
Two more Indian students attacked in Oz
In a significant departure from previous attacks on Indians, two students from India aged 19 and 20 were racially abused, bashed and attacked with knives without provocation by a group of nine youths, most of them of Chinese appearance along with a few Caucasians.



A Tribune Exclusive
Prasar Bharati can be India's BBC: Pande
'Institution a sleeping giant waiting to be aroused'
New Delhi, January 27
If Prasar Bharati were to be Mrinal Pande's home, emancipation would be its loudest streak.
SC relief for deemed varsities
January 26, 2010

Former Pak air chief's photo in govt ad
January 25, 2010

Be ready for more terror strikes: Antony
January 24, 2010

LeT on glider shopping spree
January 23, 2010

Power boost to Bathinda rail link
January 22, 2010
26/11 repeat may test India's patience: US
January 21, 2010
Punjab to raise more resources
January 20, 2010
Taliban bomb heart of Kabul
January 19, 2010
Terror bases in Pak still intact: India
January 18, 2010