PUNJAB
HARYANA
JAMMU & KASHMIR
HIMACHAL
REGIONAL BRIEFS
NATION
OPINIONS
LETTERS
BUSINESS
SPORTS
WORLD

Saturday, March 6, 2010, Chandigarh, India
Updated at 3:00 am (IST)

UPA all out to rein in price rise: PM
Rules out a rollback in rates of petrol, diesel
New Delhi, March 5


Ruling out a rollback of the recent hike in petrol and diesel prices, Prime Minister Manmohan Singh today told the Parliament that the UPA was alive to the problem of food inflation and had taken all possible measures to address the issue.The Prime Minister said the government would take more effective steps to curb inflation.


Nation page:No mediator needed to deal with Pak, says PM

Nation page:Manmohan gives it back to Advani
Women's Bill: Cong, BJP issue whip
New Delhi, March 5
The Congress and main Opposition party - the BJP - has issued a whip to party members to be present in Rajya Sabha on Monday when the House takes up for consideration and passage the 13-year-old Women's Reservation Bill
CAST YOUR VOTE
Are you happy with the Budget?

Advt
EDUCATION
JOBS & CAREERS
HEALTH & FITNESS
SCIENCE & TECHNOLOGY
REAL ESTATE
SPORTS
Attacks on Indians
NSA talks security with Karzai
Kabul, March 5
In the backdrop of the latest terror attack targeting Indians, National Security Adviser Shivshankar Menon today met Afghan President Hamid Karzai and discussed the issue of security of about 4,000 Indians here for which he carried certain proposals.
Police breaks protest, Bishnoi arm
Chandigarh, March 5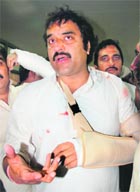 Haryana Janhit Congress (HJC) supremo Kuldeep Bishnoi today managed to make a point, that his party can't and should not be written off .The HJC organised a demonstration on the opening day of the Budget session of the Haryana Assembly in Sector 25 today to protest against the "inadequacies" of the Congress government and to press for disqualification of its MLAs who had defected to the Congress.

HJC chief Kuldeep Bishnoi
NDA 60 Glorious Years
1857 The First Challenge
E - Revolution 2005:
A Two-day IT conclave
Assembly Elections - 2005
Turbans
Chandigarh is 50
125 Years of The Tribune
India: The Tasks Ahead
India at Sixty
A Tribune Supplement
EARLIER FEATURES
On Sundays
On Saturdays
BJP leader shot dead in Phagwara
Phagwara, March 5
Tension prevailed in Phagwara town today after more than five unidentified assailants shot dead BJP's Kapurthala district secretary Sudarshan Dhillon in the Hargobind Nagar area here.Dhillon was coming from his Banga road residence in his Alto car (PB-36E-3333) when assailants, who were in a Scorpio, struck.
Sena ex-MLA told to pay for vandalism
Mumbai, March 5
The Bombay High Court today ordered Shiv Sena ex-MLA to deposit Rs 5 lakh for damage caused to a hotel. (Details on Nation page)


Death in OZ
Indian toddler's autopsy inconclusive
Melbourne, March 5


A three-year-old Indian toddler was found dead on the side of a road in the northern suburbs here on Thursday evening six hours after he went missing from home. Gurshan Singh Channa's body was found in long grass around 30 km away from his residence around 7 pm on Thursday with no obvious signs of injury.

Most unfortunate, says Krishna

Kotkapura in mourning

World Page:Channas not alone in hour of grief

An undated file photo of Gurshan released by the Victoria police on Friday.

Stampede kills 63 in UP
March 5, 2010
Petro prices fuel fire in Houses
March 4, 2010
Fuel Prices: Oppn plans to stall Parliament
March 3, 2010
India, Saudi role crucial in global economy: PM
March 1, 2010
Trinamool, DMK seek rollback of fuel hike
February 28, 2010
FM skirts populist steps
February 27, 2010
Indo-Pak talks end without much headway
February 26, 2010
No increase in fares, freight
February 25, 2010
Price rise debate sacrificed to rules
February 24, 2010
Govt committed to 'aam aadmi': Prez
February 23, 2010