PUNJAB
HARYANA
JAMMU & KASHMIR
HIMACHAL
REGIONAL BRIEFS
NATION
OPINIONS
LETTERS
BUSINESS
SPORTS
WORLD
Friday, May 21, 2010, Chandigarh, India
Updated at 3:00 am (IST)

Won't quit, won't share power: Soren
Ranchi, May 20


In a sudden turnaround, Jharkhand Chief Minister Shibu Soren today said he would not quit his post and the rotation of power with ally BJP was "not acceptable". Talking to reporters in Bokaro, JMM chief said: "I will not quit from the Chief Minister's post. The rotation of power is not acceptable to us. I will fight the Assembly poll."
Nation page: BJP leaves Munda to fend for himself
Seven dead as 'Laila' hits AP coast
9 dists bear the brunt; cyclone weakens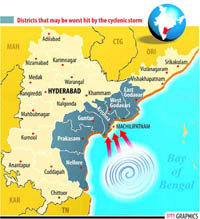 Hyderabad, May 20
After keeping the authorities guessing about its path, the cyclonic storm "Laila" hit the coast in Andhra Pradesh today, leaving a trail of destruction and claiming at least seven lives. Accompanied by winds at a speed of 120 km per hour, the cyclone kissed the coast, about 50 km from Bapatla in Guntur district.
CAST YOUR VOTE
Should the execution of Ajmal Kasab's death sentence be put on fast track?

EDUCATION
JOBS & CAREERS
HEALTH & FITNESS
SCIENCE & TECHNOLOGY
REAL ESTATE

SPORTS & WELLNESS

Ruchika Case
Verdict deferred till May 25
Chandigarh, May 20
The much-awaited verdict on the plea for enhancing the sentence of former Haryana DGP SPS Rathore — convicted in Ruchika molestation case, was deferred to May 25.
Special to the tribune
Red Shirts run riot in Thailand
20 killed in Army offensive; fear of civil war looms large
Thailand's capital remains a war zone after the security forces blazed their way into an anti-government rally in the city centre that effectively brought Bangkok to a halt on Wednesday, killing more than 20 persons and forcing most of the protesting leaders to surrender.

Thai police officers look for snipers as they clear any
remaining anti-government protesters at a known clash
point in Bangkok on Thursday. — AP/PTI
UNION BUDGET 2010-11
RAILWAY BUDGET
2010-11
NDA 60 Glorious Years
1857 The First Challenge
E - Revolution 2005:
A Two-day IT conclave
Assembly Elections - 2005
Turbans
Chandigarh is 50
125 Years of The Tribune
India: The Tasks Ahead
India at Sixty
A Tribune Supplement
EARLIER FEATURES
On Sundays
On Saturdays
Naxals are our own, says BJP icon Modi
Suggests talks with them, leaves party red-faced

New Delhi, May 20
Gujarat Chief Minister Narendra Modi today left many red faces in the BJP by propagating dialogue with the Naxalites, a stand clearly against the party line.
Meant strong action against rebels: Modi
Punjab hikes DA by 8 pc
Chandigarh, May 20
The Punjab Government today announced 8 per cent hike in the dearness allowance, taking the existing allowance from 27 to 35 per cent. This increase has been made on the pattern of Central government employees. The announcement came from Finance Minister Manpreet Badal. The allowance will be increased with retrospective from January 1, 2010.


UK to impose cap on non-EU immigrants
London, May 20
In a move likely to affect Indian professionals as well as British trade and industry, the David Cameron coalition government has decided to impose an annual cap on the number of immigrants from non-EU countries. Unveiling the full text of the coalition agreement between his Conservative Party and Liberal Democrats today, Prime Minister Cameron said the government would introduce "new measures to minimise abuse of the immigration system, for example via student routes, and will tackle human trafficking as a priority."
The 3G bonanza
May 20, 2010

It's musical chairs in Jharkhand
May 19, 2010

Dantewada again, toll 36
May 18, 2010

Bangkok bleeds
May 17, 2010

Jihadis camping in PoK to sneak into India
May 16, 2010

3 Pakistani aides of NY bomb plotter held
May 15, 2010

Centre clears decks for first defence varsity
May 14, 2010

India should not hold talks with Pak: BJP chief
May 13, 2010
Krishna to visit Pak
May 12, 2010
Higher Education Bill hits a bump
May 11, 2010