PUNJAB
HARYANA
JAMMU & KASHMIR
HIMACHAL
REGIONAL BRIEFS
NATION
OPINIONS
LETTERS
BUSINESS
SPORTS
WORLD
Saturday, June 5, 2010, Chandigarh, India
Updated at 3:00 am (IST)

Special to the tribune
Obama to keep his November date
'Proud to go to India, look forward to script history'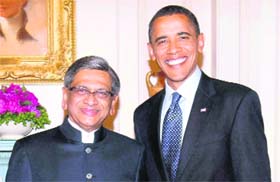 US President Barack Obama ended all speculation about his travel plans on Thursday by confirming that he and his family will visit India in early November. Obama broke with protocol to attend a reception at the State Department for External Affairs Minister SM Krishna at a time when many in India have been doubting his commitment to the US-India relationship.
WHY SUKHNA IS DYING-III
A TRIBUNE INVESTIGATION
Sukhna: Death by choking
Chandigarh, June 4
Sukhna Lake owes its origin to a Swiss-French architect and his Indian associates. Now another 'foreign hand' is choking it — a weed that has its origins in Canada. While lakhs of tonnes of silt flowing down into the Sukhna Lake has often been recognised as the cause of its slow but sure death, little was it realised that the floating greens at the bottom of the lake were as beautiful as they were deadly.
CAST YOUR VOTE
Should the execution of Ajmal Kasab's death sentence be put on fast track?

EDUCATION
JOBS & CAREERS
HEALTH & FITNESS
SCIENCE & TECHNOLOGY
REAL ESTATE

SPORTS & WELLNESS
| | |
| --- | --- |
| | Workers manually de-weed the Sukhna Lake. Tribune photo: Pradeep Tiwari |
RS Poll
BJP selects Advani loyalists Chandan Mitra, Tarun Vijay
New Delhi, June 4
The BJP parliamentary board nominated here today Chandan Mitra, The Pioneer Editor, as their Rajya Sabha candidate from Madhya Pradesh and BJP spokesman Tarun Vijay for the lone seat falling in BJP's quota from Uttarakhand.


Nation page: Oscar, Kidwai in, no word on Sharma yet

Punjab page: Badal names Bhunder
25 pc public float must for listed firms
The government has now made it mandatory for all listed companies to float 25 per cent of their equity as public holdings in a bid to prevent share price manipulation. The proposal first mooted by Sebi last year and proposed by Finance Minister Pranab Mukherjee in the last Budget has now become law.


Business page: Firms to sell shares worth Rs 60K cr
UNION BUDGET 2010-11
RAILWAY BUDGET
2010-11
NDA 60 Glorious Years
1857 The First Challenge
E - Revolution 2005:
A Two-day IT conclave
Assembly Elections - 2005
Turbans
Chandigarh is 50
125 Years of The Tribune
India: The Tasks Ahead
India at Sixty
A Tribune Supplement
EARLIER FEATURES
On Sundays
On Saturdays
2 days, 2 scares
Emergency landing at Delhi airport...
New Delhi, June 4
An Alliance Air plane operating on Delhi-Ludhiana-Pathankot-Delhi sector with 32 persons on board today landed here under emergency conditions as officials at Pathankot airport found pieces of rubber on the tarmac after it took off for Delhi and alerted Air Traffic Control.


Nation page: Near-miss at Mumbai airport
No link to Pune bid, says Pawar
New Delhi/Mumbai, June 4
The IPL controversy today returned to haunt Agriculture Minister Sharad Pawar and his MP daughter Supriya Sule, with a fresh uproar over a bid for the Pune team by a company in which they had direct shareholding. The BJP has demanded Pawar's resignation. (Details on Nation page)


Nityananda's sleazy video 'authentic'
New Delhi, June 4
Forensic experts have confirmed that an amorous video allegedly showing Paramahamsa Nityananda alias Rajasekharan with a woman is "authentic" and there is no evidence of tinkering or fabrication, as claimed by the tainted godman. Official sources told The Tribune that Forensic Science Laboratoy, Delhi, had done authentication test on two memory chips carrying the lewd video and found it genuine.
Krishna pitches for access to Headley
June 4, 2010

Sukhna is dying, save it!
June 3, 2010

Optimistic PM pegs growth at 8.5 pc
June 2, 2010

Rail mishap takes political hues
June 1, 2010

US rehearses strikes on Pak
May 31, 2010
New education draft has states smiling
May 30, 2010
Maoists target train, 76 dead
May 29, 2010
AI limps back to normalcy
May 28, 2010
Air India strike off, 15 union members sacked
May 27, 2010