PUNJAB
HARYANA
JAMMU & KASHMIR
HIMACHAL
REGIONAL BRIEFS
NATION
OPINIONS
LETTERS
BUSINESS
SPORTS
WORLD
Thursday, August 5, 2010, Chandigarh, India
Updated at 3:00 am (IST)

PC backs Omar
Puts onus on violent protesters in Valley
New Delhi, August 4
The Central Government today strongly backed a beleaguered Jammu and Kashmir Chief Minister Omar Abdullah with Home Minister P Chidambram stating , "The Central Government endorses his (Abdullah's) appeal and sincerely hopes that the cycle of violence will come to an end immediately."
J&K page: Two killed, several hurt in fresh violence
MESSY GAMES
Kalmadi ready to face probe
New Delhi, August 4


Hemmed in from all sides with a slew of allegations, Suresh Kalmadi, Organising Committee chairman of the 2010 Delhi Commonwealth Games, said here today that he was prepared to face any scrutiny by the Comptroller and Auditor General (CAG) or even a judicial probe "for all financial transactions being reported by the media".
Editorial: Despair is counter-productive
CAST YOUR VOTE
Should Warren Anderson be extradited?

EDUCATION
JOBS & CAREERS
HEALTH & FITNESS
SCIENCE & TECHNOLOGY
REAL ESTATE
SPORTS & WELLNESS
Sohrabuddin Fake Encounter


CBI not to get Shah's custody
Court says grounds for seeking remand were 'like general allegations'
Ahmedabad, August 4
In a setback to the CBI, a special court today rejected its plea for former Gujarat minister Amit Shah's custody.
Pranab defends price rise, says inflation symbol of growth


New Delhi, August 4
Had a common man heard Finance Minister Pranab Mukherjee's treatise in the Lok Sabha today on the "ongoing inflationary pressures in the economy", he would have wondered what the fuss is all about.


Editorial: More heat than light

Nation page: BJP guns for govt on price rise
Honour Killing
Three get life imprisonment
New Delhi, August 4
The Supreme Court has awarded life sentence to three persons in an honour killing case, in which six members of a family were gunned down but said the accused deserved a capital punishment. The apex court, however, refrained from awarding death penalty to Master Krishna, Ram Sewak and Kishori as the incident was two decades old and slammed the High Court for acquitting them by rejecting the testimonies of a child and another witness.
Nation page: GoM to meet tomorrow
UNION BUDGET 2010-11
RAILWAY BUDGET
2010-11

NDA 60 Glorious Years
1857 The First Challenge
E - Revolution 2005:
A Two-day IT conclave
Assembly Elections - 2005
Turbans
Chandigarh is 50
125 Years of The Tribune
India: The Tasks Ahead
India at Sixty
A Tribune Supplement
EARLIER FEATURES
On Sundays
On Saturdays
Respond to allegation: SC to judge
New Delhi, August 4
The Supreme Court today took serious note of the CBI's allegation against Ghaziabad District Judge Vishnu Chandra Gupta that he was interfering in the investigations into the PF scam and sought explanation from him. "If the allegation is true, it amounts to direct interference in the functioning of this court," a three-member Bench headed by Justice DK Jain remarked.
Buddha's alma mater Nalanda in new avatar
The oldest university in the world is set to come up again after 800 years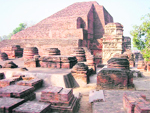 During the six centuries of its storied existence, there was nothing else quite like Nalanda University. Probably the first-ever large educational establishment, the college — in what is now eastern India — even counted the Buddha among its visitors and alumni. At its height, it had 10,000 students, 2,000 staff and strove for both understanding and academic excellence. Today, this much-celebrated centre of Buddhist learning is in ruins.
Kalmadi feels the heat
August 4, 2010
No talks without peace, Omar to Valley hardliners
August 3, 2010
Valley bleeds as eight die in fresh clashes; over 60 hurt
August 2, 2010
Flood alert in Haryana again
August 1, 2010
Ready to talk with all Valley groups: PC
July 31, 2010
Make the border more secure, pleads Punjab
July 30, 2010
British PM ticks off Pak on terror export
July 29, 2010
Showdown over price rise
July 28, 2010
MPs panel sees police hand
July 27, 2010