PUNJAB
HARYANA
JAMMU & KASHMIR
HIMACHAL
REGIONAL BRIEFS
NATION
OPINIONS
LETTERS
BUSINESS
SPORTS
WORLD
Saturday, August 28, 2010, Chandigarh, India
Updated at 3:00 am (IST)

LS plugs forex flow for religious conversions
Clears law to regulate money coming from abroad
New Delhi, August 27
Organisations of political nature and those involved in religious conversions will henceforth be barred from accepting foreign funds. Also, persons holding political positions like MPs and MLAs can no longer enjoy foreign hospitality and must intimate the government of their visits abroad, personal or official.
Join me to cleanse politics, Rahul urges students
Hisar, August 27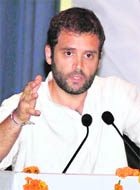 The youthful Congress general secretary Rahul Gandhi today promised students that he would cleanse the country's politics, if they supported him. He was on a daylong visit to Haryana to keep his date with activists of the National Students Union of India (NSUI) of Haryana Agriculture University, Hisar, Guru Jambheshwar University, Hisar, Kurukshetra University and the National Dairy Research Institute, Karnal.


Mirchpur arson

Editorial: Rahul spreads his wings

AICC general secretary Rahul Gandhi interacts with students in Karnal on Friday. A Tribune photograph

Click Tribune in Punjabi, Hindi New
EDUCATION
JOBS & CAREERS
HEALTH & FITNESS
SCIENCE & TECHNOLOGY
REAL ESTATE

SPORTS & WELLNESS
Now, Delhi plays Chinese checkers
Denies visas to 3 Chinese Army officers,
puts defence exchanges on hold
New Delhi, August 27
In fresh signs of tension in Indo-China ties, New Delhi has denied visas to three Chinese Army officers and put all defence exhanges with Beijing on hold in retaliation to the latter's refusal to allow Lt Gen BS Jaswal, General Officer Commanding-in-Chief of the Northern Area Command, to visit China.
Gyaneshwari Train Sabotage
Key accused killed in gun battle
Kolkata, August 27
Umakant Mahato, one of the prime suspects in the Gyaneshwari train sabotage, was today killed in an encounter that lasted over six hours at Lodhasuli village in West Midnapore district on Friday.
Tribune Exclusive
Babri panel fears violence
Sends SOS to PM, pushes for out-of-court settlement
New Delhi, August 27
As the court will for the first time decide whether there was a mosque or a temple at the disputed site in Ayodhya, the All India Babri Masjid Action Committee on Friday sent an SOS to Prime Minister Manmohan Singh to ensure that there was "no violence" after the judgment, expected any time now.
UNION BUDGET 2010-11
RAILWAY BUDGET
2010-11

NDA 60 Glorious Years
1857 The First Challenge
E - Revolution 2005:
A Two-day IT conclave
Assembly Elections - 2005
Turbans
Chandigarh is 50
125 Years of The Tribune
India: The Tasks Ahead
India at Sixty
A Tribune Supplement
EARLIER FEATURES
On Sundays
On Saturdays
Anti-poaching measures at high altitude
Shelters to come up soon; will ensure
long-distance patrolling
Dehradun, August 27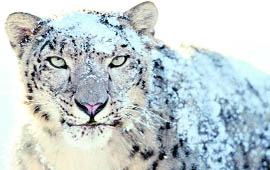 To rein in poachers — who are on the prowl in the snowbound areas of the state, hunting for leopards, musk deer, bears and the Himalayan blue sheep — the Uttarakhand government is planning to set up five high-altitude shelters to facilitate long-distance patrolling.


Maya puts gas minister on backburner
2 Lucknow hospitals refuse to let Jitin launch his 'sanjha chulha' scheme
Lucknow, August 27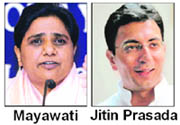 Throwing a spanner in the petroleum ministry's scheduled programme, two government hospitals in Lucknow have refused to extend cooperation for a function on their premises where Union Minister of State for Petroleum and Natural Gas Jitin Prasada was to provide LPG gas facility for the common kitchen in the hospital.
Direct Taxes Code Bill gets Cabinet nod
August 27, 2010
With 'intent' clear, nuke Bill passed
August 26, 2010
Green spoke in Vedanta's mining plot
August 25, 2010
Three dams full, Bhakra board calls meeting
August 24, 2010
Gilani defends India's aid
August 23, 2010

Rain disrupts North
August 22, 2010

MPs get 300% hike, still unhappy
August 21, 2010

Badal scuttled it, says Arjun; no, it was treachery: Badal
August 20, 2010
It's all over bar the shouting
August 19, 2010
Rs 125 cr for Ladakh resurrection
August 18, 2010