PUNJAB
HARYANA
JAMMU & KASHMIR
HIMACHAL
REGIONAL BRIEFS
NATION
OPINIONS
LETTERS
BUSINESS
SPORTS
WORLD
Wednesday, September 1, 2010, Chandigarh, India
Updated at 3:00 am (IST)

Free Foodgrains Distribution
SC raps Pawar, says ruling was an order
New Delhi, August 31
The Supreme Court today made it clear that it had ordered free distribution of foodgrains to the poor instead of allowing it to rot in godowns and it was not a suggestion as made out by Agriculture Minister Sharad Pawar.


Will follow SC: Pawar

Editorial: What a waste!
Tainted Pak players told to keep off nets
Summoned by PCB chief, could be sacked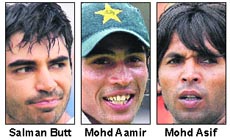 London/Karachi, August 31
In a dramatic twist to the 'spot-fixing' scandal that has rocked the world cricket, three tainted Pakistan players — Test captain Salman Butt, Mohammad Aamir and Mohammad Asif — were today barred from practice at Taunton and asked to return to London for a meeting with top Pakistan officials.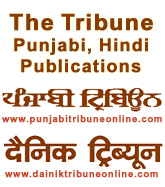 EDUCATION
JOBS & CAREERS
HEALTH & FITNESS
SCIENCE & TECHNOLOGY
REAL ESTATE

SPORTS & WELLNESS
Caste to count: Pranab
New Delhi, August 31
The government today said it would shortly begin the process of caste enumeration in the Census. Following ruckus in the House over confusion on government stand on the issue despite assurances on that count by the Prime Minister, Leader of the House Pranab Mukherjee said the matter would be cleared in the next Cabinet meeting and there was no apprehension on that count. He said a caste headcount would be done.
SC reopens Bhopal gas leak case
New Delhi, August 31
Fourteen years after it had diluted charges in the Bhopal gas leak case, the Supreme Court today virtually reopened its own judgment that led to lighter punishment of two-year imprisonment for the accused, including former Union Carbide India chairman Keshub Mahindra.
Parties gag MPs from speaking their mind
New Delhi, August 31
If you thought Members of Parliament (MPs) enjoyed the freedom to say what they thought was right, you need to think again. The first survey to study the democratic character of the Indian Parliament reveals that MPs don't have the right to voice opinions that are contrary to party stance and most of them feel stifled on this count.
UNION BUDGET 2010-11
RAILWAY BUDGET
2010-11

NDA 60 Glorious Years
1857 The First Challenge
E - Revolution 2005:
A Two-day IT conclave
Assembly Elections - 2005
Turbans
Chandigarh is 50
125 Years of The Tribune
India: The Tasks Ahead
India at Sixty
A Tribune Supplement
EARLIER FEATURES
On Sundays
On Saturdays
No Ladakh Festival this year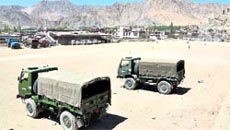 Leh, August 31
Cancellation of the annual Ladakh Festival, which would have begun tomorrow, means a loss of crores but survivors of the recent flash floods resolutely mourn the dead.

President to visit Leh today

Polo ground at Leh, the venue for the annual Ladakh Festival every year, wears a deserted look on Tuesday. Tribune photo: Anand Sharma

US ends Iraq combat mission
Baghdad, August 31
Prime Minister Nuri al-Maliki told Iraqis today their own soldiers and police are up to the job as US forces ended a combat role after seven years of fighting that has cost thousands of lives.


The Rang De Basanti mov(i)ement
Jalandhar group makes it to the Rakeysh Mehra documentary based on hit movie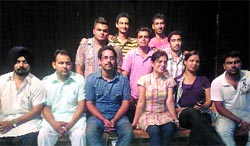 Jalandhar, August 31
"After four years one wouldn't imagine people bothering about a movie. But it's different with 'Rang De Basanti'.

Ritu Jhingran (centre, in peach) and Ankur Sharma (in blue), with the other group members of Yuva at the Desh Bhagat Yaadgar Hall in Jalandhar.

Today's specials
HIMACHAL PLUS

J&K PLUS

JALANDHAR PLUS

AMRITSAR PLUS

JOBS & CAREERS

HEALTH & FITNESS
More muck flies off match-fixing scam
August 31, 2010
CRICKET SHAMED AGAIN
August 30, 2010
Jet crew suspended for serious lapses
August 29, 2010
LS plugs forex flow for religious conversions
August 28, 2010
Direct Taxes Code Bill gets Cabinet nod
August 27, 2010
With 'intent' clear, nuke Bill passed
August 26, 2010
Green spoke in Vedanta's mining plot
August 25, 2010
Three dams full, Bhakra board calls meeting
August 24, 2010
Gilani defends India's aid
August 23, 2010