PUNJAB
HARYANA
JAMMU & KASHMIR
HIMACHAL
REGIONAL BRIEFS
NATION
OPINIONS
LETTERS
BUSINESS
SPORTS
WORLD
Monday, September 27, 2010, Chandigarh, India
Updated at 3:00 am (IST)

ON-THE-SPOT REPORT
Almora in dire trouble
n No trace of the highway n People jittery even 10 days after cloudburst n Tonnes of vegetables rot along riverbed n Relief too little, too late
Chaamriya (Almora) September 26
Beyond the settlement of Garam Pani, there is no trace of the Almora Highway. Ten days after the cloudburst at Almora and the devastation caused by Kosi, people are still shaken and relief is too little and often reaching too late.
| | |
| --- | --- |
| | A building damaged due to landslides in Almora. A Tribune photograph |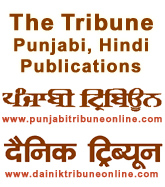 EDUCATION
JOBS & CAREERS
HEALTH & FITNESS
SCIENCE & TECHNOLOGY
REAL ESTATE

SPORTS & WELLNESS
Curfew relaxed in Valley
Srinagar, September 26
Even as Jammu and Kashmir separatists and opposition parties spent the day either criticising or analysing the Centre's eight-point peace initiative, some signs of normalcy returning to the strife-torn state were visible here today.
Top firms opt out of Army chopper deal
New Delhi, September 26
American 'Bell Helicopter' and Italian ' Agusta Westland' have withdrawn their bids for the 197 Advance Light Helicopters (ALH) being acquired for the Army for search and rescue operations. The $600 million deal, they have complained, is being processed in favour of the French-German combine 'Eurocopter'.


Tale of a sinking Jammu village
Udhampur, September 26
After Leh, it's the turn of a village in Jammu & Kashmir's Ramban district to face nature's wrath. Though there are no casualties this time, the fear factor is almost similar. The entire hillock on which the village — Batpora, 200 km from Jammu — stands has started sliding, causing extensive damage to all 41 houses, forcing the panic-stricken residents to move out.
UNION BUDGET 2010-11
RAILWAY BUDGET
2010-11

NDA 60 Glorious Years
1857 The First Challenge
E - Revolution 2005:
A Two-day IT conclave
Assembly Elections - 2005
Turbans
Chandigarh is 50
125 Years of The Tribune
India: The Tasks Ahead
India at Sixty
A Tribune Supplement
EARLIER FEATURES
On Sundays
On Saturdays
Hi-tech tweeters to ward off birds
Chandigarh, September 26
Faced with the perpetual problem of bird activity around airbases, which poses a serious hazard to flight safety, the IAF is introducing several new measures to check the menace. Prominent among them are installing special tweeters, which have been specially designed to cater to the ornithology pattern of a particular geographical area.
Maoists back Kashmiris' struggle
Hyderabad, September 26
The Maoists have thrown their weight behind the Kashmiris' struggle for independence and said their fight for self-determination was completely justified. "We firmly believe that Kashmiri movement for liberation and their right to self-determination is completely justified and that neither India nor Pakistan has any right over them," the CPI (Maoist) said in a statement.


Now, CBSE aptitude test
New Delhi, September 26
In order to assess the ability of students, the CBSE will introduce a psychological aptitude test for class X on the lines of similar exams held in other parts of the world. CBSE will hold this exam under Students Global Aptitude Index (SGAI). CBSE's SGAI incharge Rama Sharma said, "The exam will be held for class X and the first paper might be on January 15, 2011.
8-point initiative for Kashmir
September 26, 2010
As monsoon recedes, sun shines on CWG
September 25, 2010
SC puts off Ayodhya verdict for a week
September 24, 2010
Rains continue to batter North, toll crosses 100
September 23, 2010
Double trouble for Games
September 22, 2010
All-party MPs meet separatists
September 21, 2010
Firing near Jama Masjid leaves two foreigners hurt
September 20, 2010
AFSPA not arbitrary, says Army chief
September 19, 2010
No deferment of Ayodhya decision
September 18, 2010
EMIs set to go up
September 17, 2010