PUNJAB
HARYANA
JAMMU & KASHMIR
HIMACHAL
REGIONAL BRIEFS
NATION
OPINIONS
LETTERS
BUSINESS
SPORTS
WORLD
Monday, October 11, 2010, Chandigarh, India
Updated at 3:00 am (IST)

Kings XI stumped!
New Delhi/Mumbai, October 10
Two glamour-laden Indian Premier League teams---Kings XI Punjab and Rajasthan Royals --- have been made to pay a heavy price for their perceived proximity to ousted league chairman Lalit Modi by the Board of Control for Cricket in India (BCCI) today.
Preity Zinta (Kings XI) and Shilpa Shetty (Royals): In trouble for ties with Lalit Modi?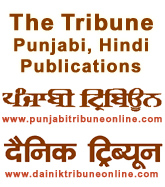 EDUCATION
JOBS & CAREERS
HEALTH & FITNESS
SCIENCE & TECHNOLOGY
REAL ESTATE
SPORTS & WELLNESS
India rout Pak 7-4, enter semis
New Delhi, October 10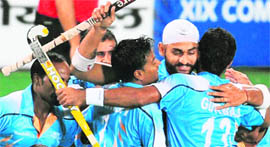 Team India could not have given a better gift to the Congress and UPA chief Sonia Gandhi and her MP son Rahul Gandhi than a 7-4 drubbing to its arch rival and neighbour Pakistan for a berth in the semi-finals of the hockey competition of the 2010 Commonwealth Games here this evening. (Details on Sports page)

THE GREAT DEBT DEBATE
Manpreet ready to fall in line, SAD hardliners push for action
Chandigarh, October 10
The disciplinary committee of the Shiromani Akali Dal is meeting on Monday amidst growing demand by partymen that the finance minister Manpreet Badal be divested of his portfolio. While a mellowed and more cautious Manpreet Badal said on Sunday that he was ready to go along with the party on the Centre's offer over loan-waiver, there were sufficient indication that knives are out to cut him down to size.
Kiwi anchor quits over Dikshit row
Melbourne, October 10
A controversial New Zealand TV host, who mocked and mispronounced Delhi Chief Minister Sheila Dikshit's name prompting India to lodge a diplomatic protest, today resigned, acknowledging that he had "crossed the line".
UNION BUDGET 2010-11
RAILWAY BUDGET
2010-11

NDA 60 Glorious Years
1857 The First Challenge
E - Revolution 2005:
A Two-day IT conclave
Assembly Elections - 2005
Turbans
Chandigarh is 50
125 Years of The Tribune
India: The Tasks Ahead
India at Sixty
A Tribune Supplement
EARLIER FEATURES
On Sundays
On Saturdays
Top Chinese leader arriving to 'mend ties'
New Delhi, October 10
After months of tension over a plethora of issues, China is showing a keen desire to mend fences with India. In a move to put the relationship back on the track, the Chinese President is sending to India one of his key strategists to meet the Indian leadership and clarify Beijing's position on certain contentious issues.
Colonel to lose 5-yr service for slackness
Chandigarh, October 10
A general court martial (GCM) has acquitted a colonel of 16 charges of professional impropriety in a case pertaining to misappropriation of milk powder worth crores, but has held him guilty on one charge of failing to carry out technical inspection of military farms under his control.
Sukhbir asks Manpreet 'where is the offer'
October 10, 2010

Badal govt goes in for damage control
October 9, 2010

BADAL vs BADAL
October 8, 2010

An offer Punjab can't afford to refuse
October 7, 2010

GOLDEN DAY FOR INDIAN SPORTS
October 6, 2010

Lifters open India's tally
October 5, 2010


Games get off to spectacular start


October 4, 2010

ALL SET FOR THE BIG BASH
October 3, 2010

In Ayodhya, now Hindu vs Hindu
October 2, 2010

AYODHYA HEADS TO SUPREME COURT
October 1, 2010