2G row: Rawat charges BJP for stalling Parliament
Accuses it for diverting attention from corruption rampant in Uttarakhand
Nainital, December 11
Taking on-going fight over corruption into the BJP camp, Union Minister of State for Labour and Employment Harish Rawat has charged that the BJP has stalled parliamentary proceedings to divert attention from the corruption rampant in Karnataka, Chhattisgarh, Jharkhand and Uttarakhand.
Congress flays BJP over arrest of traders association chief
Haridwar, December 11
Taking cognisance of the arrests of local Congress party workers and small traders association president Sanjay Chopra, Leader of Opposition in the State Assembly Dr Harak Singh Rawat objected to the BJP government's working.
21st anniversary of Nobel Prize for Dalai Lama celebrated
Mussoorie, December 11
The Tibetan community living in exile in Mussoorie celebrated the 21st anniversary of their spiritual guru the Dalai Lama receiving the Nobel Peace Prize in 1989 in a simple ceremony at the Central School for Tibetans in the Happy Valley here yesterday.




Chief guest VK Singh presents an award to a Tibetan student; and (right) children listen to the address of the dignitaries during a function in Mussoorie on Friday.

Mussoorie MLA inaugurates hall of Tilak Memorial Library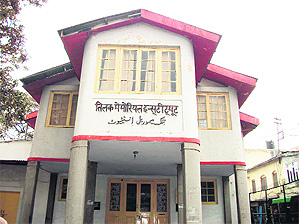 Mussoorie, December 11
Members and readers converged at inauguration ceremony of the newly constructed hall of historic Tilak Memorial Library situated at Picture Palace, Kulri Bazar, in Mussoorie yesterday. Chief guest on the occasion, Mussoorie MLA Jot Singh Gunsola inaugurated the new hall by cutting the ribbon. Gunsola also announced an additional financial support of Rs 3 lakh from his MLA, LAD fund.
Tilak Memorial Library in Mussoorie.
Bonanza for Spanish film lovers
Dehradun, December 11
Film lovers of Dehradun will have an opportunity to view international award-winning films by some of leading directors during a festival of Spanish films being organised by REACH Talkies in collaboration with Delhi-based The Instituto Cervantes. The festival will open with "The Secret Life of Words" directed by Isabel Coixet on December 12 at 11 am at Muse Art Gallery, Hotel Inderlok, Rajpur Road. The films to follow are "Mondays in Sun" on December 19, "Tesis" on December 26 and "Lucio" on January 2, 2011. Each of these movies will be repeated, six days later, at Vasant Vihar Club at 5 pm.
Hotel workers flay andolankari's removal
Mussoorie, December 11
In a press note released to the media, members of the Hotel, Restaurant Karamchari Mahasangh registered their protest against the state government on removing Ravinder Jugran from the post of president of the Rajya Andolankari Samman Parishad by Chief Minister Ramesh Pokhriyal Nishank.
Avalon resort staff strike continues
Mussoorie, December 11
The ongoing agitation of Avalon resort employees against the retrenchment drive being carried out by the management seems to have no ending. The warring employees sat on dharna once again on the Kacheri premises in support of their demands.
Directorate for primary education to start in 2011
Pitthoragarh, December 11
A separate directorate for primary education in the state will start functioning by next year. Uttarakhand Education Minister Govind Singh Bisht stated this while addressing a gathering of secondary teachers, who had gathered to elect their new regional executive here today.
CPM stages dharna against countrywide corruption
Dehradun December 11
Members of the Communist Party of India-Marxist (CPM) staged a dharna at the Gandhi Park here against countrywide corruption and the nexus between politicians and bureaucrats. They took a pledge to eradicate corruption.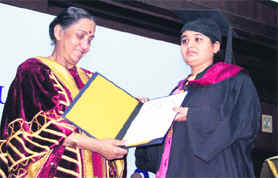 Tech varsity's 2nd convocation held
Dehradun, December 11
The second convocation for meritorious students of Uttarakhand Technical University (UTU) was held at the Forest Research Institute (FRI) here today. All students attaining more than 65 per cent in academics were given certificate of merit and a gold medal.
Governor Margaret Alva presents a degree to a student in Dehradun on Saturday. A Tribune photograph