Floods: Villagers go on hunger strike
Haridwar, December 9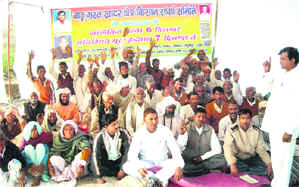 Despite two months have passed since heavy monsoon rains flooded various regions of rural Haridwar, proper rehabilitation of several villages has not been done so far. In view of the delay, despite political assurances from the state government ministers and administrative claims, the villagers of some affected villages have now resorted to hunger strike in favour of their demands.
Residents of flood-affected villages observe a fast in Haridwar on Thursday. Tribune photo: Rameshwar Gaur

Bagauli pulls up officials
Nainital, December 9
District Magistrate Shailesh Baguli has expressed his displeasure at the failure of the officials to initiate construction works for auxiliary nurses and midwives (ANM) centres at Alchauna and Mehragaon villages despite clearances being given and land being identified for the purpose.
UKD flays govt decision to withdraw language clause
Dehradun, December 9
President of the Uttarakhand Kranti Dal Trivender Singh Panwar has slammed the state government for doing away with the clause of compulsory knowledge of local languages, Garhwali, Kumaoni and Jaunsari, as one of the selection criterion for the Class C category jobs. Panwar said the UKD was ready to fight out this decision of the state government which it had taken under the pressure of some anti-state elements.
No-trust motion against cooperative chief quashed
Pitthoragarh, December 9
The District Magistrate of Champawat today revoked the no-confidence motion passed by the Champawat Milk Cooperative Union against its Chairman last month and installed Chairman Devi Dutt Joshi on the post again.
Arrest of man by cops in plain clothes create panic
Dehradun, December 9
A group of five-six armed persons in a Bolero vehicle reportedly kidnapped a man at Mandi Chowk, Patelnagar, this morning.
Roadways Staff Kin's Stir
Samiti members take to symbolic begging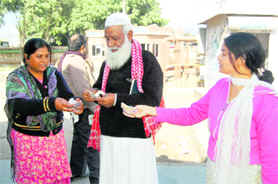 Dehradun, December 9
To mark protest against the Uttarakhand Parivahan Nigam, the Mritak Ashrit Sangharsh Samiti members begged symbolically at the Inter State Bus Terminal (ISBT) here today. The protesters have been staging dharna since 170 days in front of the Uttarakhand Parivahan Nigam in favour of their demands.
Family members of deceased roadways employees ask for alms as a mark of protest in Dehradun on Thursday. A Tribune photograph

Council seeks human rights commission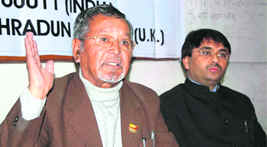 Dehradun, December 9
State body of the World Human Rights Protection Council has demanded setting up of a state human right commission in Uttarakhand during a press conference at a city hotel today.
SS Pangtey of the World Human Rights Protection Council addresses a press conference in Dehradun on Thursday. A Tribune photograph

Man dies in mishap
Dehradun, December 9
A mechanic, in his early twenties, died while taking a test drive of a scooty after being hit by a car, here this evening. The car driver took victim Mohmmad Raziq to hospital, but he died during treatment.
Elephant kills woman
Dehradun, December 9
Woman (85) died after an elephant crushed her in Rishikesh this evening. According to the police, the car (UA 07 T 7374), having three occupants, was going to Rishikesh from Dehradun. The elephant first hit the car, turned it turtle and when the occupants of the car came out, he crushed one of them.