Monday, March 19, 2012, Chandigarh, India
Edition update time 2:30 am (IST)


Latest news, updated at 5:30 pm
Mamata prevails, Trivedi goes
Kolkata/New Delhi, March 18


Dinesh Trivedi resigned today as Railway Minister ending his defiance and bringing to a close five-day drama after he incurred the wrath of Trinamool Congress for hiking passenger fares in the Railway Budget.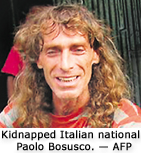 Maoists abduct two Italian tourists in Odisha's tribal area
Bhubaneswar/New Delhi, Mar 18
Two Italian tourists were abducted in the tribal-dominated Ganjam district of Odisha by Maoists demanding an immediate end to anti-Naxal operations and release of some jailed colleagues.
Raids on M'rashtra babu yield property worth Rs 200 crore


Mumbai, March 18
In growing instances of corruption singeing the country's bureaucracy, searches by Maharashtra's Anti-Corruption Bureau sleuths on the premises of bureaucrat Nitesh Janardhan Thakur have yielded properties and cash worth Rs 200 crore so far.
AGENDA
2012-17
FOR THE NEW PUNJAB GOVT
Beginning today, The Tribune flags key areas for the new SAD-BJP government. Part I features the critical area of finance where the Parkash Singh Badal government would have to take some tough decisions as the state is virtually broke. (Details on Punjab page)

Cong U'khand crisis simmers
New Delhi/Dehradun, March 18
The political crisis in the Uttarakhand Congress refused to die down with sulking Union Minister Harish Rawat today saying he had not received any "concrete" proposal from the Central leadership to end the stalemate.