Haryana CPS Fauji found unconscious
Traces of poison found in his body
Panchkula, April 14
Haryana Chief Parliamentary Secretary and three-time MLA Ram Krishan Fauji was found unconscious under mysterious circumstances at his residence in Sector 12-A early morning here today.
Hands off my parks, Maya tells Akhilesh
Lucknow, April 14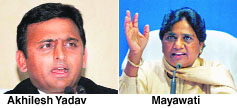 Warning of a grave law and order situation not only in Uttar Pradesh but across the country if the Dalit memorial parks were tampered with, former Chief Minister Mayawati today cautioned the Samajwadi Party government against attempting building anything in these parks.
After Mamata, now Jaya flays Centre over CST


Chennai, April 14
Joining her West Bengal counterpart Mamata Banerjee, Tamil Nadu Chief Minister J Jayalalithaa today attacked the Centre for its "arbitrary" action in reducing Central Sales Tax compensation to states by linking it with VAT rate revision.
Easy visa rules on cards to boost Indo-Pak ties: PC
April 14, 2012
RTE Act applies to all govt, private schools, rules SC
April 13, 2012
8.6 quake jolts Indonesia, shakes India
April 12, 2012
AFSPA amendments under review: PC
April 11, 2012
23 guilty for post-Godhra riots
April 10, 2012
Stop terror against India, PM tells Zardari
April 9, 2012
All eyes on Zardari visit, PM likely to raise Saeed issue
April 8, 2012
Ahead of Zardari visit, Pak, India spar over Saeed's 26/11 role
April 7, 2012
Maoists extend deadline to release hostages till April 7
April 6, 2012
PM trashes 'coup fears'
April 5, 2012