PUNJAB

HARYANA

JAMMU & KASHMIR

HIMACHAL

REGIONAL BRIEFS

NATION

OPINIONS

LETTERS

BUSINESS

SPORTS

WORLD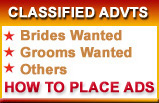 Thursday, June 7, 2012, Chandigarh, India
Edition update time 2:30 am (IST)


Latest news, updated at 6:30 pm
Ajit's fix-it plan: AI to hire pilots, expand network
New Delhi, June 6
Civil Aviation Minister Ajit Singh could not have made his stand on the fate of sacked IPG pilots more clear. On a day when the pilots of the de-recognised Indian Pilots Guild approached the Air India chairman, pleading for opening up of a channel of communication, and held a "peace march", a tough- taking minister made it absolutely clear that "terminated" pilots would have to apply afresh if they want to come back.
Worried over US' defence focus on Asia, India tells Panetta to re-calibrate strategy
New Delhi, June 6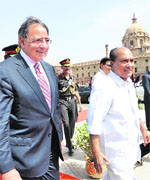 Worried over United States' new defence focus on Asia, New Delhi today told Washington to re-calibrate its strategy, as India fears that it could lead to increased militarisation of its neighbourhood.
Leon Panetta with AK Antony at South Block in New Delhi on Wednesday. Tribune photo: Mukesh Aggarwal