Pak confusion: Sarabjit stays in jail
Zardari's spokesman clarifies: It's Surjeet who will be set free
Islamabad/Chandigarh, June 26
Hours after reports emerged that Pakistan was to free Indian death row prisoner Sarabjit Singh, the presidential spokesman clarified that authorities had taken steps for the release of another Indian prisoner named Surjeet Singh who has been jailed for three decades.

Punjab page: Pak 'confusion' over Sarabjit cuts short celebrations
Krishna-Khar talks put off
New Delhi, June 26
The talks between the foreign ministers of India and Pakistan, which were to be held in Islamabad in mid-July, have been postponed. However, the development has nothing to do with the arrest of Syed Zabiuddin Ansari, alias Abu Jundal, one the key plotters of the Mumbai attack.

Virbhadra quits, says ready to battle it out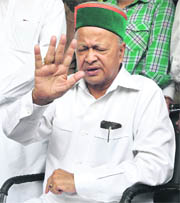 New Delhi, June 26
A day after a Shimla court ordered that charges be framed against him in a corruption case, Union minister Virbhadra Singh resigned from the Cabinet today, putting a question mark on his political future in his home state Himachal Pradesh where he is seeking a sixth term as chief minister in the year-end assembly polls.



Editorial: Fresh setback to UPA
Virbhadra Singh after handing over his resignation