Guide to best colleges

Results of Punjab Assembly Polls 2012


THE TRIBUNE DEBATE: NCTC

Army Chief's Age Row

2011: THE YEAR OF UPRISINGS

Punjab Public Transport, an investigation

WORLD CUP 2011: CRICKET SPECIAL

Turbans

EARLIER FEATURES


Special to the tribune
Bilimoria joins UK biz leaders to bat for easier student visas


India-born Lord Karan Bilimoria is among 37 business leaders who have signed a letter calling on the UK Government to do more to attract foreign students to British universities. Bilimoria, 50, earned his B.Com from Osmania University in Hyderabad before coming to the UK where he graduated in law from Sidney Sussex College, Cambridge, in 1988.
Violence spreads in Assam, death toll 17
Kokrajhar (Assam), July 22
Violence in lower Assam's Kokrajhar spread to neighbouring Chirang district today where five persons were killed, even as the toll in the group clashes shot up to 17 in the two districts.


J&K fast becoming north India's puffing capital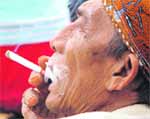 New Delhi, July 22
Jammu and Kashmir is fast emerging as the smoking capital of north India. Fresh analysis of tobacco prevalence data in the country has revealed that adults in J-K are spending more on cigarettes and bidis than their counterparts in other northern states.
Lockout at Manesar, but Maruti won't exit Haryana
July 22, 2012
Cong-NCP standoff on; Pawar meets Sonia
July 21, 2012
Rahul ready for bigger role
July 20, 2012
Maruti workers go on rampage; 1 dead, 40 hurt
July 19, 2012
With no option left, Mamata says will vote for Pranab
July 18, 2012
Vice-Prez battle on; NDA fields Jaswant
July 17, 2012
India must push reforms: Obama
July 16, 2012
Ansari UPA choice for Vice-President
July 15, 2012
Northern states adamant, no headway on contentious issues
July 14, 2012
States have their way, NCTC out of IB ambit
July 13, 2012
Monsoon covers nation, but deficient in some states
July 12, 2012