PMO deferred coal auction policy: CAG
New Delhi, August 18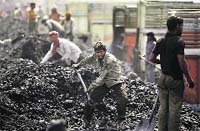 Three reports of the Comptroller and Auditor General (CAG) estimate that private players gained a whopping Rs 3.82 lakh crore due to faulty government policies in captive coal mining, use of coal by private power generating firms and development of Indira Gandhi International Airport in public private partnership.
Coalgate: Screening panel failed to do justice to job, says CAG
New Delhi, August 18
The government auditorís estimate of gain of Rs 1.86 lakh crore to private firms on the basis of direct allocation of captive coal blocks to them is primarily based on one premise ó the screening committee tasked with awarding allocations did not do its job properly.



CAG estimates on power projects based on costing


Auditor has praise for PPP mode

news analysis
Cong confident of riding out the latest storm
New Delhi, August 18
The latest CAG report on the allotment of coal blocks has placed Prime Minister Manmohan Singh directly in the firing line of the Opposition and yet the Congress appears far more self-assured in dealing with this crisis as compared to the furore which erupted after the revelations on the allocation of 2G spectrum.
CAG defends mandate, says govt asked for audit
New Delhi, August 18
Rattled by the triple whammy of the Comptroller and Auditor Generalís (CAG) reports, the government has accused the auditor of not following its ascribed mandate and over-reaching it. Rejecting allegations, officials manning the Constitutional body say the financial scrutiny of the three subjects was very much part of its mandate because the task was assigned to it by the government itself.