Pak didn't arrest Saeed for 26/11 attacks: Shinde
New Delhi, December 17
Contrary to Pakistan Interior Minister Rehman Malik's "repeated" claims, the 26/11 mastermind Hafiz Saeed was never arrested in connection with the Mumbai terror attacks, the government said today. The revelation came a day after the conclusion of Malik's controversial three-day visit to India.

Delhi's shame: Girl battles for life after gang-rape in bus
New Delhi, December 17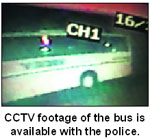 In another incident shaming the Capital, a 23-year-old girl was brutally beaten up and gang-raped twice allegedly by four men inside a moving private bus in south Delhi last night. She was stripped naked by her assaulters and thrown out of the bus under a flyover at Mahipalpur. The rape happened in front of the victim's male friend, who was also badly thrashed by the accused.
HC slams firm for change of land use
Chandigarh, December 17
The Punjab and Haryana High Court has held that the action of a company to set up a school and carve out a residential colony on land of farmers acquired for industrial purposes amounted to fraud. Taking up a PIL filed in-person by advocate Bipan Sharma, along with a bunch of other petitions