LIFE+STYLE

CHANDIGARH

LUDHIANA

BATHINDA

JALANDHAR

AMRITSAR TRIBUNE

JALANDHAR TRIBUNE

BATHINDA TRIBUNE

JAMMU TRIBUNE

KASHMIR TRIBUNE

DELHI

DEHRADUN

DEHRADUN PLUS
Re touches a new low, just shy of 60 to dollar
New Delhi, June 20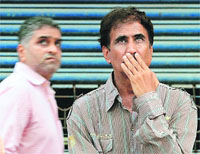 The rupee sank today to an all-time low of just under 60 to the dollar amid fears that the liquidity tap of the US Federal Reserve will be gradually turned off. The Sensex followed suit plunging 526 points, its biggest fall in nearly two years.
Onlookers react to falling Sensex outside the BSE on Thursday. — AFP

Govt snooping programme on since April
New Delhi, June 20
India has launched a wide-ranging surveillance programme that will give its security agencies and even income tax officials the ability to tap directly into e-mails and phone calls without oversight by courts or parliament, several sources said.
1.69 lakh Haryana families lose BPL tag
Sirsa, June 20
Anxiety is writ large on the face of 33-year-old Savitri as she comes to the headmistress of her daughter Parul's school with a notice in hand. The school authorities have asked her to immediately refund the monthly scholarship that Parul (13) has been getting as a below poverty line (BPL) student — a status she has lost after a re-survey conducted by the authorities. As Savitri tells the headmistress that being from a very poor background, she will not be able to refund the money, which is in thousands, Parul starts sobbing at her mother's helplessness.
OTHER PAGES

J&K: Terror threat to Amarnath yatra an exaggeration, says Omar


HIMACHAL: 300 rescued from Kinnaur dist


CHANDIGARH: It's a second birth for us, says family after returning from Hemkund Sahib


LUDHIANA: Seals from 3 complexes removed


DELHI: St Stephen's declares first cut-off list

Business: Sensex tanks over 526 pts on weak Re, Fed stance

OPINIONS: Divided we fight

SPORTS: An unstoppable force

WORLD: No talks with Taliban scheduled: US


The tribune guide to best colleges

Budget
2013-14

INDIA CHINA WAR 50 YEAR LATER

YEAREND SPECIAL: 2012

Year of survival

The tribune 130 years
a witness to history
book released by prime minister manmohan singh

Guide to best colleges

Results of Punjab Assembly Polls 2012

HIMACHAL VOTES 2012

EARLIER FEATURES

CBI conducts polygraph test on Raja Bhaiya
New Delhi, June 20
The CBI today conducted lie-detection test on former UP Cabinet Minister Raghuraj Pratap Singh, alias Raja Bhaiya, on charges of his alleged involvement in the murder of DSP Zia-ul-Haque. He reached CBI headquarters at 12.30 pm for the test and remained there for a few hours. When he came out, he was satisfied, sources said. A few days back, he had appeared before a special CBI court in Lucknow and agreed to undergo the test.
(Details on NATION page)
champions trophy
An unstoppable force
The Indian juggernaut rolls on. The change of conditions didn't matter. The change in the nature of the pitch didn't matter. Sri Lanka were simply crushed and swept aside in the wake of the Indian march. No-hopers when the tournament started, the Indian team put up another stunning performance to reach the final of the Champions Trophy. (Details on SPORTS page)
Special to the tribune
Sharmila launches 'Pataudi, Nawab of Cricket' today
A second book by and about Tiger Pataudi is in the pipeline, his wife Sharmila Tagore has revealed. Sharmila will be in London on Friday for the UK book launch of 'Pataudi, Nawab of Cricket', a compilation of 22 essays in the memory of the former cricket captain that was published earlier this year by Harper Collins. Sharmila herself has written the foreward, along with contributions from daughters Saba and Soha.

Toll touches 150, hundreds missing
June 20, 2013
Rain fury: 131 dead, 500 missing
June 19, 2013
PM inducts 8 ministers; Kharge gets Railways
June 18, 2013
JD(U) parts ways with BJP
June 17, 2013
Party to decide on JD(U): Rahul
June 16, 2013
Nitish calls alliance with BJP difficult; signals split
June 15, 2013
Govt defers food Bill ordinance
June 14, 2013
Modi's rise puts BJP-JD(U) alliance on the rocks
June 13, 2013
RSS steps in, Advani withdraws resignation
June 12, 2013
Modi vs Advani: BJP plunges into crisis
June 11, 2013