Hefty fee for serving liquor at parties prevents organisers from applying for licence
Amritsar, July 2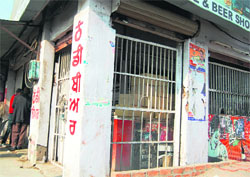 While a modest banquet hall in the city could be hired for a day for anything between Rs 6,000 to 10,000, the party organisers are required to pay Rs 20,000 as licence fee for serving liquor. The hefty fee charged by the Excise Department is forcing people to look for ways, which could be termed as illegal, to serve the liquor to their guests. Hence, most of the people try to save the money by not applying for the licence.
Three of family booked for duping residents of Rs 19 lakh
Amritsar, July 2
The police has registered a case against three members of a family for duping residents of lakhs of rupees by making false promises of sending them abroad. The accused have been identified as Gourav Mahindru, his wife Aman Mahindru and his mother Pooja, all residents of Sandhu Colony, Batala Road, Amritsar.
MC's functioning visionless and unproductive, say Cong leaders
Amritsar, July 2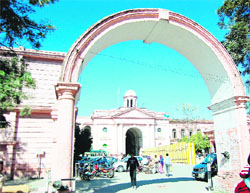 Condemning the functioning of ruling party leaders and Municipal Corporation, various Congress leaders have termed the present administrative set up as "unproductive and visionless".


The Congress says the shifting of MC office from its present location at Town Hall building to Ranjit Avenue would burden the state exchequer by raising a loan of around Rs 24 crore from Asian Development Bank. A Tribune Photograph

NGO launches plantation drive
Amritsar, July 2
NGO Mission Aagaaz has started its 'Monsoon Plantation Drive' by planting a tree sapling and installed a tree guard outside the office of CPI at Chheharta in the memory of late Communist leader Satpal Dang.
Neha Chopra secures third position in GNDU
Amritsar, July 2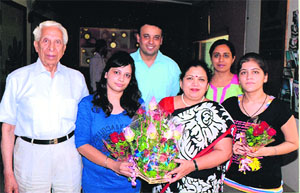 Students of BBK DAV College for Women have secured top positions in BBA-final year result. Neha Chopra bagged the third position in the Guru Nanak Dev University by scoring 1,637 marks while Sahiba Arora scored 1,604 marks and stood fourth in university.


BBK DAV College for Women principal Neelam Kamra honours meritorious students in Amritsar on Tuesday. A Tribune photograph

Man booked for fraud on wife's complaint
Amritsar, July 2
The police has registered a case against a Baba Bakala resident for marrying a city-based girl in a fraudulent way. The accused, who allegedly had concealed his real name, have been identified as Gurpreet Singh, alias Bachitter Singh, who got married to Nishu Navneet, a resident of Ranjit Avenue, Amritsar, by projecting himself as a UK citizen.
Seventh annual Punjabi Theatre Festival kicks off in city
Amritsar, July 2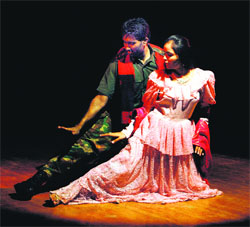 The seventh annual Punjabi Theatre Festival opened in the city with Shakespeare's famous tragedy Othello. The four-day festival will bring together different theatre groups and techniques weaved with storylines that will entertain and educate the audience. Organised by Manch Rangmanch at Virsa Vihar, the theatre festival is an attempt by noted theatre person kewal Dhaliwal to present innovative techniques of storytelling on stage.

Shakespearian tragedy: Artistes perform a play, "Othello", at Virsa Vihar in Amritsar on Tuesday. photo: Sameer Sehgal

Panchayat polls: GNDU to remain closed today
Amritsar, July 2
In the wake of the panchayat elections in the state, the teaching and non-teaching departments of Guru Nanak Dev University (GNDU) will remain closed tomorrow.
Priyanka tops BCA final year
Amritsar, July 2
Priyanka Lehri of Hindu College bagged the first position in BCA final year in Guru Nanak Dev University (GNDU). She scored 1,940 out of 2,500 marks.