LIFE+STYLE

CHANDIGARH

LUDHIANA

BATHINDA

JALANDHAR

AMRITSAR TRIBUNE

JALANDHAR TRIBUNE

BATHINDA TRIBUNE

JAMMU TRIBUNE

KASHMIR TRIBUNE

DELHI

DEHRADUN

DEHRADUN PLUS

Prez signs food security ordinance
Rate of subsidised grains subject to revision after three years
New Delhi, July 5
President Pranab Mukherjee today signed the ordinance on food security, making food a legal right of two-third of Indian population. The largest food intervention scheme of the world will cost the government Rs 1,24, 794 crore annually and require a supply of 61.2 million tonnes of food grain to provide 82 crore people the right to 5 kg of food grain every month at highly subsidised rates of Rs 1 to 3 per kg.
PPSC scam: Nine govt officials get one-year jail
Patiala, July 5
The local court on Friday sentenced nine government officials, some of them now retired, to a year's imprisonment for paying a bribe to the then Punjab Public Service Commission (PPSC) Chairman Ravi Sidhu for making it to the PCS (Executive). The Punjab Vigilance Bureau had in its 2002 FIR said that at least 12 officers had paid hefty bribes, ranging from Rs 15 lakh to Rs 45 lakh, through middlemen for selection in the PCS cadre.
SC norms to stop overstay in govt houses
New Delhi, July 5
The Supreme Court today issued 20 guidelines to prevent ministers, MPs, judges, bureaucrats and other government servants from overstaying in government bungalows and quarters. A Bench comprising Justices P Sathasivam and Ranjan Gogoi directed all judges to vacate their official residences within one month from the date of superannuation or retirement. They could be given one more month if there were sufficient reasons.


OTHER PAGES

PUNJAB: Shopkeepers near Jallianwala Bagh resist eviction, won't sign affidavits


HARYANA: 14 children taken ill


HIMACHAL: Cabinet reverses decisions of BJP govt


CHANDIGARH: Declare your house tax to MC


LUDHIANA: Rape victim assaulted


DELHI: DPCC meet to zero in on poll plan


Business:

Slow economy takes toll on corporate earning estimates

OPINIONS: Food for politics


NATION: India, China agree to have 'strategic communication'


SPORTS: Del Potro's best not good enough for Djokovic

WORLD: Three killed as forces fire on pro-Mursi rallies in Cairo


The tribune guide to best colleges

Budget
2013-14

INDIA CHINA WAR 50 YEAR LATER

YEAREND SPECIAL: 2012

Year of survival

The tribune 130 years
a witness to history
book released by prime minister manmohan singh

Guide to best colleges

Results of Punjab Assembly Polls 2012

HIMACHAL VOTES 2012

EARLIER FEATURES
Advani meets RSS brass, discusses poll
Nagpur, July 5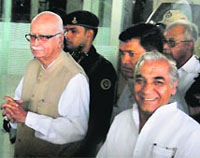 Visiting the RSS headquarters for the first time since his June 10 resignation plunged BJP into a crisis, LK Advani today met Sangh chief Mohan Bhagwat and had "fruitful" discussions on coming elections to state assemblies and next year's Lok Sabha poll.
BJP leader LK Advani on his arrival at the airport in Nagpur on Friday. — PTI

Three killed as forces fire on pro-Mursi rallies in Cairo
Cairo, July 5
Security forces shot dead at least three supporters of deposed Egyptian President Mohamed Mursi on Friday as a crowd of hundreds tried to march towards the military barracks in Cairo where he is being held by the military that overthrew him.
Jats get OBC status in Delhi
New Delhi, July 5
The Delhi Government today granted an OBC status to the Jat community in the city, thus providing it the benefits of reservation in government services. The decision was announced by Delhi Chief Minister Sheila Dikshit today in an All India Jats Convention at Talkatora Stadium.
A first: Kashmir's rising star Rasool makes it to Team India
Anantnag, July 5
Kashmir's rising star Parvez Rasool today created history by becoming the first cricketer from Jammu and Kashmir to be named in the Indian team. Rasool (24), who has been in contention for national selection for a while now after a string of impressive performances, got the nod in the 15-member squad with the selectors preferring to go in with a young team for the five-match ODI series, to be held from July 24 to August 3 at Harare and Bulawayo.
Food security ordinance raises Opposition hackles
July 5, 2013
Maoists kill SP, 5 cops in Jharkhand
July 3, 2013
U'khand gets rehab authority
July 2, 2013
As toll estimates mount, states asked to verify their missing
July 1, 2013
Toll now put at 3,000; NDMA says 2,300 villages still cut off
June 30, 2013
Rs 1 lakh crore infra projects under PPP mode in 6 months
June 29, 2013
Cabinet go-ahead for CBI autonomy
June 28, 2013
PM, Sonia flag off first train to Kashmir Valley
June 27, 2013
Manmohan, Sonia in J-K vow to fight terror
June 26, 2013
Militants strike again, kill 8 jawans in Valley
June 25, 2013
Rescue efforts gather pace
June 24, 2013
1,000 dead; rescuers focus on Badrinath
June 23, 2013