LIFE+STYLE

CHANDIGARH

LUDHIANA

BATHINDA

JALANDHAR

AMRITSAR TRIBUNE

JALANDHAR TRIBUNE

BATHINDA TRIBUNE

JAMMU TRIBUNE

KASHMIR TRIBUNE

DELHI

DEHRADUN

DEHRADUN PLUS
SC refuses to bring down juvenile age from 18 to 16
New Delhi, July 17


The Supreme Court today dismissed the pleas for reducing the age of juveniles from 18 to 16 years in view of the recent spurt in crimes by those in this particular age group.
Dismal monsoon: Haryana, parts of
Punjab face drought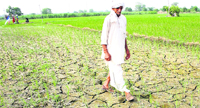 Chandigarh, July 17
While monsoon plays hide and seek in the region, the spectre of drought seems to be a distinct possibility in Haryana and certain parts of Punjab.

Govt to go after 12 lakh service tax defaulters
New Delhi, July 17
The Finance Ministry will target 12 lakh service tax assessees who have stopped filing returns.

OTHER PAGES

PUNJAB: Displaced during Op Bluestar


HIMACHAL: HP demands more from Centre


CHANDIGARH: BCom student overpowers snatcher


LUDHIANA: Traffic rules go for a toss


DELHI: Options galore for reserved categories


Business:

Market regulator to get more powers

OPINIONS: Opening up to FDI

SPORTS: History favours Oz, present England

WORLD: Top Islamist gets death for war crimes in Bangladesh



The tribune guide to best colleges

Budget
2013-14

INDIA CHINA WAR 50 YEAR LATER

YEAREND SPECIAL: 2012

Year of survival

The tribune 130 years
a witness to history
book released by prime minister manmohan singh

Guide to best colleges

Results of Punjab Assembly Polls 2012

HIMACHAL VOTES 2012

EARLIER FEATURES
Hizb militant killed, 4 cops hurt in J-K grenade attack
Srinagar, July 17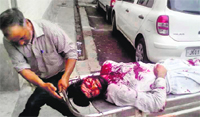 A Hizbul Mujahideen militant was killed and five persons, including four policemen escorting him to Baramulla jail, were injured in a grenade attack by suspected militants in Srinagar's busy Batamaloo area here today.
An injured being taken to a hospital after the grenade attack in Srinagar on Wednesday. Tribune photo: Amin War

Brar stabbed in pre-planned revenge attack, prosecution tells UK court
London, July 17


Three Sikh men tried to slash the throat of Lieutenant General (retd) Kuldip Singh Brar, who commanded the 'Operation Blue Star', in a deliberate "revenge attack" on the streets of London, a UK court has heard.



A file photo of injured KS Brar
Five security men killed in Bihar Maoist attack
Aurangabad (Bihar), July 17
Five security personnel, including three state policemen, were killed when armed Maoists attacked them at a culvert construction site in Aurangabad district of Bihar today, a senior police officer said.
Cabinet committee gives go-ahead to Mountain Strike Corps
New Delhi, July 17
The Cabinet Committee on Security (CCS) tonight approved in principle a specialised Mountain Strike Corps aimed at increasing military strength along the China frontier. The committee headed by the Prime Minister is the highest decision making body on security matters.

Govt revises FDI cap, allows 100% in telecom, 49% in insurance
July 17, 2013
One month on, 5,748 still missing in Uttarakhand
July 16, 2013
New Bhutan govt keen to boost ties with India
July 15, 2013
Roll out food scheme quickly: Sonia to CMs
July 14, 2013
2002 riots: Modi says did no wrong
July 13, 2013
Allahabad HC puts on hold caste-based rallies in UP
July 12, 2013
Convicted lawmakers to lose membership: SC
July 11, 2013
Bodh Gaya blasts probe handed over to NIA
July 10, 2013
13 bombs were planted, says Shinde
July 9, 2013
9 serial blasts rock Bodh Gaya
July 8, 2013