LIFE+STYLE

CHANDIGARH

LUDHIANA

BATHINDA

JALANDHAR

AMRITSAR TRIBUNE

JALANDHAR TRIBUNE

BATHINDA TRIBUNE

JAMMU TRIBUNE

KASHMIR TRIBUNE

DELHI

DEHRADUN

DEHRADUN PLUS


Bus tragedy: Punjab sets up SIT, promises action
Ludhiana, August 1
A day after a bus plunged into the Bhakra canal near Sirhind and around 42 passengers were feared killed, Punjab Transport Minister Ajit Singh Kohar today said a special investigation team (SIT) would probe the reasons behind the mishap. Action would be initiated against the road construction company, if it was found at fault, he added.
Snowden gets asylum in Russia for a year
NSA leaker leaves Moscow airport for secret location after giving a slip to reporters
Moscow, August 1


Fugitive former US spy agency contractor Edward Snowden slipped quietly out of Moscow's Sheremetyevo airport on Thursday after securing temporary asylum in Russia, ending more than a month in limbo in the transit area. A Russian lawyer who has been assisting Snowden said the American, who is wanted in the United States for leaking details of secret government surveillance programmes, had gone to a safe location which would remain secret.

US snooping programme had one server located in India: Report
OTHER PAGES

PUNJAB: CM: Will take up problems of Gujarat Sikhs with Modi


HARYANA: Iron pills: Over 42 kids fall ill in Jagadhri, Kaithal


HIMACHAL: A political vendetta, says Anurag


CHANDIGARH: Woman, daughter found murdered


LUDHIANA: Vigilance asks Local Govt Dept to probe irregularities


DELHI: Assembly poll: Infusion of low-floor buses hangs in limbo


Business:

Cabinet approves easing of FDI norms

OPINIONS: India on hold

SPORTS: Srinivasan may face legal action if he attends BCCI meeting today

WORLD: Bangladesh HC declares top Islamist party illegal


Lahore Log

The tribune guide to best colleges

Budget
2013-14

INDIA CHINA WAR 50 YEAR LATER

YEAREND SPECIAL: 2012

Year of survival

The tribune 130 years
a witness to history
book released by prime minister manmohan singh

Guide to best colleges

Results of Punjab Assembly Polls 2012

HIMACHAL VOTES 2012

EARLIER FEATURES
CM Akhilesh defends IAS officer's suspension, Centre assures justice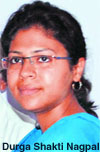 Lucknow/New Delhi, August 1
Even as the Centre today assured that justice would be done in the case of suspended IAS officer Durga Shakti Nagpal, who had clamped down on the mining mafia in Uttar Pradesh's Gautam Budh Nagar, Chief Minister Akhilesh Yadav vehemently justified her suspension. Facing intense criticism over the suspension of the 28-year-old officer by the UP government on July 27, Akhilesh blamed detractors of conspiring to blow the matter out of proportion.
Indigenous aircraft carrier to be launched at sea on August 12
New Delhi, August 1
The Indian Navy today announced that the sea-borne indigenously built aircraft carrier, named Vikrant, will be launched at sea on August 12. The carrier will carry a complement of fighters and helicopters. It is targeted for commissioning into the Navy by end of 2018, including its flight trials. Vice Chief of the Indian Navy, Vice-Admiral RK Dhowan, said: "About 75 per cent of the carrier has been erected on the dry dock at Kochi and that is correct readiness to launch at sea to complete the outfitting and carry on the trials".
Parties unite against SC order on criminal candidates
New Delhi, August 1
Political parties on Thursday closed ranks to criticise the recent Supreme Court judgments on debarring legislators in jail from contesting elections and disallowing reservation for faculty in the prestigious All India Institute of Medical Sciences.

40 feared dead as bus falls into Bhakra canal near Sirhind
August 1, 2013
Green light for 29th state Telangana
July 31, 2013
Crucial Tuesday for Telangana
July 30, 2013
India, Pak chalk out schedule for resuming dialogue
July 29, 2013
UK set to go ahead with controversial visa bond
July 28, 2013
Takht directs DSGMC ex-chief Sarna to do religious service
July 27, 2013
Court: Batla encounter not fake; IM operative convicted
July 26, 2013
Compensate Railways for loss in 2011 stir, SC tells Haryana
July 25, 2013
India, US keen to take civil N-deal forward
July 24, 2013
US Vice-Prez arrives to discuss trade, defence ties
July 23, 2013
Uncertainty over sale of power to Pakistan
July 22, 2013