LIFE+STYLE

CHANDIGARH

LUDHIANA

BATHINDA

JALANDHAR

AMRITSAR TRIBUNE

JALANDHAR TRIBUNE

BATHINDA TRIBUNE

JAMMU TRIBUNE

KASHMIR TRIBUNE

DELHI

DEHRADUN

DEHRADUN PLUS

Modi hits out at Cong for 'undermining' PM
New Delhi, September 29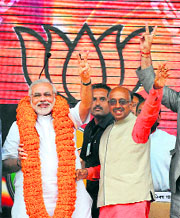 BJP's prime ministerial candidate Narendra Modi on Sunday attacked Congress vice-president Rahul Gandhi for "disrespecting" Prime Minister Manmohan Singh and asked the people to choose a "dream team" in 2014 by junking the "dirty team" of the Congress-led UPA.

BJP leaders Narendra Modi and Vijay Goel at a rally in New Delhi. Tribune photo: Mukesh Aggarwal

Rajnath replaces Modi as BJP poll campaign chief
New Delhi, September 29
BJP's Prime Ministerial candidate Narendra Modi today relinquished the post of Election Campaign Committee chief in favour of party president Rajnath Singh. The development comes 15 days after Modi was appointed the BJP's PM candidate.
OTHER PAGES

HARYANA: CM storms Chautalas' citadel


HIMACHAL: Tech education in a state of mess


CHANDIGARH: Govt schools a sinking ship


LUDHIANA: YAD leaders plan individual shows


DELHI: Discuss city's ills with me, Goel dares CM

OPINIONS: The right to reject


BUSINESS: Pak industry wants India to collaborate in farm sector


SPORTS: Srini's stranglehold continues

WORLD: 40 killed, 80 injured in Peshawar bomb blast


Lahore Log

The tribune guide to best colleges

Budget
2013-14

INDIA CHINA WAR 50 YEAR LATER

EARLIER FEATURES

Sonia praises PM over schemes for uplifting weaker sections
Thiruvananthapuram, September 29
In an apparent attempt at assuaging his feelings in the wake of Rahul Gandhi's denunciation of the government, Congress chief Sonia Gandhi today praised Prime Minister Manmohan Singh, saying schemes launched under his leadership have helped millions of people from the marginalised sections.
'Honour killing': Cops stop cremation in Yamunanagar


Girl's father taken into custody

Case registered against family members
Yamunanagar, September 29
In a case of suspected 'honour killing', a 21-year-old girl died under mysterious circumstances here last night. Timely and swift action by the police foiled attempts by the family members to cremate her body in a clandestine manner in the wee hours of the day.
5 die in Mumbai helicopter crash
Mumbai, September 29
All five persons aboard a Bell 212 helicopter died after it crashed in bad weather near Malshej Ghat in Thane district, the police said.
Rahul 'restored' party's original view on ordinance
New Delhi, September 29
No matter how surprising Congress vice-president Rahul Gandhi's outburst against the government ordinance on convicted lawmakers may seem, the reality is the view he expressed on Friday was the original party stand on the controversial issue.
Shut down terror machinery, Manmohan tells Pak at UN
September 29, 2013
Rahul trashes ordinance on convicted netas
September 27, 2013
Twin terror strikes in Jammu; 10 killed
September 27, 2013
Terror, LoC tension, trade to dominate PM-Sharif talks
September 26, 2013
Convicted lawmakers can contest polls
September 25, 2013
Crack down on communal elements, PM tells states
September 24, 2013
Suicide bombers kill 78 at Pak church
September 23, 2013
BCCI chief's son-in-law charged with betting, leaking team info
September 22, 2013
Home, car loans to cost more as RBI raises lending rates
September 21, 2013
Sensex rides on US stimulus, gallops to three-year high
September 20, 2013
Arrest warrants against 16 UP leaders for 'inciting' riots
September 19, 2013