Bold and bare the new colours of Bollywood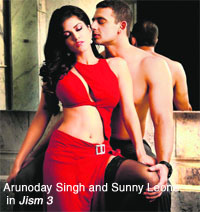 Sex, the forbidden three- letter word, has suddenly not just leapt out of the closet but is there right in your face. It is often graphic, both visually and verbally
Nonika Singh
"I don't know the question, but sex is definitely the answer." ? — Woody Allen
Hard to know in which context the Hollywood actor said it but today a whole lot of Bollywood directors and producers certainly believe in sex lies the answer to cinema and the key to commercial success. So there it is in film after film, if not as a leitmotif then certainly as an add-on to spice things up. The three-letter forbidden word has suddenly not just leapt out of the closet but is there right in your face, often graphic both visually and verbally too.
---
Arts
A painter & a photographer
Giacobetti's photographs of Bacon and his works reveal the man who was imprisoned in his own mind and situation
B.N.Goswamy
There was a painting I saw years ago, in some exhibition in London I think, that made a marked impact on me: the figure of a Pope or a cardinal, seated majestically in a high chair, wearing the opulent robes that proclaimed his status, back erect, arms stretched and gripping that throne-like structure but with his mouth wide open as if in an unending, unheard cry. The form was indistinct, the figure hazy; but what one could see clearly was a series of hastily drawn straight strokes that went all around it, forming as it were a cage or a witness box. It was as if the man was imprisoned in his own mind, his situation.
---
fitness
Kicking the butt, naturally
Some common foods can help smokers in quitting the habit and in curbing the craving for smoking or tobacco
Dr Anjali Mukerjee
No one can make you smoke, or quit or decide whether you should quit. If you are reading this article with interest it's possible that a thought of 'wanting to quit ' has wormed into your mind and you want to see whether it's possible to quit! It is not that you don't know about the harmful effects of tobacco but in order to strengthen your resolve to quit it is important to review its harmful effects once again.
---
Society
Love in the autumn years
Relationships which were an absolute taboo and unthinkable in the golden years are no more considered awkward and outlawed
Seerat Toor
Our cultures have gradually opened and paved way for acceptance of bonds that were earlier unthinkable. Relationships in mature years solicit greater role of emotional acknowledgement and satisfaction before acceptance. When one becomes a singleton by will or by fate, after a long innings, the meanings of love and relationship change. You no longer indulge in frivolous feelings and settle for the typical "be-my-Valentine" affair.
---
travel
Confluence of East and West
Kazan is the capital of Tatarstan, a part of the Russian Republic. Kazan means a cauldron. Tatars and Russians, Christians and Muslims, all live together in this 1,000-year-old city
Roopinder Singh
Gazing at the architectural wonder that is the Kul Sharif Mosque, you chance upon a couple celebrating their marriage, the bride resplendent in the white bridal dress — typical of a Western setting. The sight is no more surprising than to see the recently-build mosque sharing space with an Orthodox Christian church, both in Kremlin, the seat of government of Tatarstan. Then there are smiling people who ask to be photographed with you...stereotypes shatter...welcome to the reality of Russia.
---
Entertainment
I am not in the rat race
Shoma A. Chatterji
Shahid Kapoor is more on the news for his extra-cinematic engagements than for his cinematic repertoire. But he begs to differ. Bubbling over with enthusiasm over his first cinematic interaction with Raj Kumar Santoshi's Phata Poster Nikla Hero, he holds forth on his upcoming films.
An irrational act
The assassination of rationalist activist Dr Narendra Dabolkar reminisces of Amrit Manthan, a film that was a caustic critique of god men and prevailing conformist edifices
Rahul Sahgal
The shocking cold-blooded assassination of rationalist activist Dr Narendra Dabolkar draws a parallel with pre-Independence progressive Maharashtra and how far it has regressed since then. In 1934, two of Maharashtra's favourite sons got together to collaborate to address the specifically archaic issue of exploitation of religion in the garb of blind faith.