LIFE+STYLE

CHANDIGARH

LUDHIANA

BATHINDA

JALANDHAR

AMRITSAR TRIBUNE

JALANDHAR TRIBUNE

BATHINDA TRIBUNE

JAMMU TRIBUNE

KASHMIR TRIBUNE

DELHI

DEHRADUN

DEHRADUN PLUS
Telangana turmoil
Cong tells Reddy to clamp ESMA
Signals go-slow strategy on bifurcation
New Delhi, October 9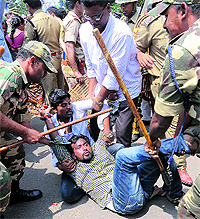 On the edge over its decision to form a separate state of Telangana, the Congress on Wednesday asked Andhra Pradesh Chief Minister Kiran Kumar Reddy to clamp the Essential Services Management Act (ESMA) to restore normalcy.


Police detains protesters in Guntur. — Reuters



Nation page: Seemandhra remains paralysed, cyclone threat adds to woes


PGI satellite centre: Ignored, Badal writes to PM
Accuses Centre of sidelining Punjab Govt over stone-laying ceremony in Sangrur


Chandigarh, October 9
Making the foundation stone-laying ceremony of the PGI satellite centre (to be held at Sangrur tomorrow) a state versus Centre issue, Punjab Chief Minister Parkash Singh Badal today expressed displeasure over "grave and avoidable political impropriety involved in keeping Punjab in the dark about the ceremony".

OTHER PAGES

HARYANA: No evidence with Lokayukta yet as deadline ends today


J&K: Impossible to normalise ties with Pak if infiltration goes on: Omar


HIMACHAL: Congress ministers defend CM


CHANDIGARH: Metro moves step closer to reality

LUDHIANA: Contractual staff go without salary


DELHI: Man, son die in building collapse

OPINIONS: Telangana trouble

BUSINESS: Exports rise 11.15% in Sept

SPORTS: Return of prince elegant

WORLD: Musharraf free to leave Pak


Lahore Log

The tribune guide to best colleges

Budget
2013-14

INDIA CHINA WAR 50 YEAR LATER

EARLIER FEATURES
14 IAS, 21 PCS officers to face punitive action
Personnel Dept reconstructs proof against them
Chandigarh, October 9
Fourteen IAS and 21 PCS officers in Punjab will face action for alleged misappropriation of wealth by accepting bribes, for causing losses to the state exchequer and committing irregularities while discharging their duty.
Walmart, Bharti part ways
New Delhi, October 9
Bharti Enterprises and Walmart Stores, the world's biggest retailers, today ended their partnership in the Indian retail sector.
PM looks to strengthen India-ASEAN ties
Brunei, October 9
Aiming to give fillip to India's "Look East" policy, Prime Minister Manmohan Singh is expected to announce new initiatives to take forward ties with the ASEAN by setting up a mission and appointing an ambassador for the 10-member grouping.
SC slams celebratory fire, bans guns at marriages
New Delhi, October 9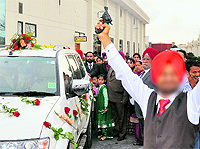 The Supreme Court has ruled that guns can't be used to celebrate marriage functions and that these must be carried with a "sense of responsibility". "Guns must be carried with a sense of responsibility and caution and are not meant to be used in places such as marriage ceremonies."

15-day Keran operation ends, Army Chief blames Pakistan
October 9, 2013

India rejects Pak denial on incursion
October 8, 2013

Curfew, shoot orders in coastal Andhra town
October 7, 2013
Jagan begins fast, says will move SC against AP division
October 6, 2013
EC declares poll dates for 5 states
October 5, 2013
Lalu gets 5-yr jail in fodder scam
October 4, 2013
Govt withdraws ordinance, Bill on lawmakers
October 3, 2013
No question of me resigning, says PM
October 2, 2013
Lalu guilty in fodder scam, jailed
October 1, 2013